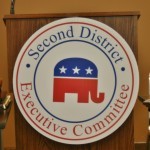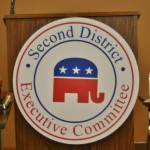 The Following is a guest post written by Polk County GOP Co-Chair Chad Brown
County leadership is on the move all across the state of Iowa this year. The 2nd District Executive Committee became the third Iowa Congressional District to re-activate.
This meeting convened in Washington, Iowa, on the morning of June 8. Judy Davidson, Scott County Chair, was elected 2nd District Executive Committee Chairwoman with 18 votes, beating parliamentarian Don Racheter, who received 9 votes. The meeting lasted 1 hour 35 minutes and included the election of officers, approval of the proposed rules, discussion on the 2014 Caucuses, District Convention and State Convention, as well as discussing consistent statewide District rules and lastly organizational announcements.
"I thought we had great attendance," said Davidson. "We had 28 out of 51 current executive committee members attend our meeting on one of the first nice Saturdays this summer. I think it was a good event."
Personally, the re-activation of these D.E.C.'s is very near and dear to my heart. As Co-Chair of the most populated county in the state of Iowa, I understand the challenges that go along with my specific county organization. Also, as an active officer of the recently re-activated 3rd District Executive Committee, I have learned much about the challenges faced by those in my neighboring counties. This is due, in part, to meeting and speaking with leaders of other counties more often and getting to know them more closely than I had in the past. This is why District Executive Committees have traditionally provided a vital ingredient to the success of the Republican Party in Iowa. Their important role is detailed in the RPI Constitution.
Traditionally, the Republican Party is built as a grass roots Party that was always strong because it had a firm foundation and was built from the ground up. Unfortunately, the District Executive Committees were deactivated within recent years, and that vacuum was filled by powerful groups that dominated the leadership selection process by preventing Republican County leaders from talking to each other and promoting leadership from the grass roots. We want to restore the grass roots to the Republican Party and include more people.
It's unfortunate that these long-standing Committees were deactivated and silenced, but the counties' executive leadership in the districts are getting back to basics! "I think this morning's meeting went really well," spoke Trudy Caviness of Wapello County. "Our goal was to organize 2nd District, and we accomplished our goal. Plus, I really liked how everyone was allowed to make announcements. I thought the additions to the rules were good. That shows people looked at the rules and read them."
Our District Executive Committees are here to improve and unify the Republican Party and get more people involved. This is an exciting time as we begin to restore an important tradition of grass roots to the Republican Party of Iowa. "I think it's so important to give information to the candidates and campaigns," said Karen Fesler of Johnson County. "Candidates can now make one call and can get information on the county organizations and when and where  the county central committee meetings are held.  It's a benefit to all of us to meet and work together. Anytime you can create another source for candidates, the media, committees, to get information about Republicans, it's another way to reach out to people and help our Party. This is a good thing."
"I see these D.E.C.'s as another resource in helping elect Republicans on the district-wide as well as statewide level," added Caviness. Trudy Caviness was elected 2nd D.E.C. Co-Chair, and Karen Fesler was elected 2nd D.E.C. Secretary. Additionally, the body elected two at-large members for the Executive Committee.  Matt Green was elected over Don Racheter for the first position. Don Racheter then ran and won against Wesley Westmorland on the second ballot to fill the second position. "I think it will be a good resource for any district-wide and statewide candidate," continued Caviness. "I think that by working together, the county leadership will be a part of a group and be working for the same goal. In recent years there haven't been many opportunities for new Chairs and Co-Chairs to get together. This will give them the resource of giving new Chairs/Co-Chairs the shared knowledge from people who have been in their shoes. This will be a good support group for the counties."
Chad Brown, Polk County GOP Co-Chair and 3rd Congressional District Executive Committee Secretary