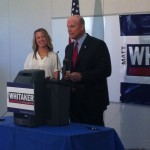 Two days after Chuck Grassley's chief-of-staff David Young filed his paperwork, Ankeny native Matt Whitaker has officially joined the Republican U.S. Senate primary.
With around 50 supporters and media members in attendance at Accumold—an Ankeny plastics manufacturer—Whitaker took to the podium to spell out why he is campaigning to replace Democrat Tom Harkin as one of Iowa's two voices in the Senate.
The speech
After introducing his wife Marci, he spoke of his days growing up in Ankeny and playing football at The University of Iowa—then he turned to the concerning direction he views our country heading in.  When looking at the current happenings in Washington D.C. he sees a "government that is stealing from our future".  He then made the point personal by adding, "I'm not sure I can look my kids in the eye and honestly say there will be better days.  We have promised our children that they will have the American Dream, but the only thing we seem to be handing them now is $50,000 in debt for every man, woman, and child."
Whitaker described his vision of the American spirit as, "having the conviction to take advantage of the opportunities this great country offers and to pass it on to the next generation".  He wasted no time in linking the man who would be his opponent should he win the primary—Rep. Bruce Braley—to President Obama, "There is no doubt in my mind that Bruce Braley and Barack Obama will not make America strong".  He went on to say his candidacy will be an effort to counter-act this reality and ended by stating, "I'm going to take a stand to take our country back—and that stand starts today."
The highlight of the speech was the following excerpt:
"Bruce Braley and Barack Obama are making our country weak and they are taking away our future—not on my watch.  They want a Senate that thinks entitlements are better than liberty, they think subsidies are better than opportunity, they think it's OK for the government to require you to buy a product from a private business, and even worse they don't even read the bills they pass.  Washington needs every person that goes there to have the stomach to face the problems, the brains to understand them, and the heart to rally Iowans to solve these significant problems."
The issues
Following the speech Whitaker took questions from a gaggle of reporters.  For some reason many of the questions were trivial and odd in nature, however, there were two significant exchanges and they went as follows:
Question:Â  Where would you want to cut Federal spending?
Answer:  "I think you need to look at the whole Federal budget.  I think right now the first place I'd look would be foreign aid—I think we are sending too much money to people who don't like us.  I think we also need to look at our support of the U.N. and how much we're giving when they keep passing resolutions not friendly to the United States".
Question:  What's your take on the immigration reform law going through Congress right now?
Answer:  "I don't support amnesty.  As a former prosecutor I enforced immigration laws and I understand they're broken.  I've been to the borders in Canada and Mexico and I see the significant challenges we face.  With the current bill, again, I don't support amnesty or a path to citizenship, but I do think we need to fix the problem and secure the border"
Going Forward
The next phase in the primary process for all Iowa Republicans to watch is who else will join the field—as there is very little chance that this will be a two-way contest between David Young and Matt Whitaker.  In the next few weeks the slate of candidates will become much clearer.  The following four Republicans are mulling it over and all have publicly expressed interest in the primary:  State Senator Joni Ernst (who has said she will make her decision known soon), former gubernatorial candidate Rod Roberts, businessman Mark Jacobs, and former state central committee member Drew Ivers.