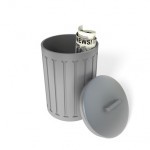 While not big news that Iowa Republicans don't wait with bated breath for the Des Moines Register to anoint a Republican candidate the cream of the presidential crop, in recent years their recommendations have barely risen above laughable fodder. Since we could all use some comic relief from this seemingly endless campaign season, let's take a look back at the Register's recent forays into Presidential advocacy. What follows are two main reasons, among many others, why they should stick to merely reporting on the political pulse of Iowa—instead of trying to alter it.
Reason #1 – A Sketchy, Schizophrenic History
While nearly all the data on editorial board endorsements show that they have a minuscule impact, if any at all, well over 70% of newspapers insist on letting readers in on their intense, well researched, and agenda free vetting. Though a nightmare for the hard journalism side of the paper, the hubris of editors and the short term buzz created by endorsements proves, cycle after cycle, too intoxicating to deny. Clearly I have no problem with public expressions of political opinion. If a newspaper wants to engage in it in spite of the fact it is counter-intuitive to their charter, then they have every right. However, one does have to wonder if it's too much to expect for them to undertake the process with a minimal amount of intellectual honesty. Consider the following examples, all from the Des Moines Register's editorial board since the year 2000.
• When contrasted against a Democrat, they have not deemed any Republican candidate fit for the White House in 40 years, including in the last three cycles—opting for Al Gore in 2000, John Kerry in 2004, and Barack Obama in 2008.
• Of the Republican primary field in 2000 they chose, believe it or not, George W. Bush. Beyond the massive irony, what's interesting is that they chose Bush over fellow competitor John McCain, describing McCain as "having a tendency toward petulance when the cameras were off, and a lone-wolf style of action that has left him without the support of colleagues who should be his biggest admirers". Never mind that eight years later he was chosen by the editorial board as the best choice amongst Republicans in 2008—though of course he ultimately fell short of recommending.
• In 2004 The Register had sized up John Edwards and concluded that he would make the finest president amongst the group, giving him the nod over all other Democrats running. Somehow over the next four years, he had regressed so far in his ability to lead the Country that when he came back in 2008 they couldn't recommend him. Not only did they bump him from their top spot they slid him behind both Hillary Clinton and Obama, saying they "too seldom saw the 'positive, optimistic' campaign we found so appealing in 2004. His harsh anti-corporate rhetoric would make it difficult to work with the business community to forge change." Something tells me the editorial board doesn't have quite the same problem with the "harsh anti-corporate rhetoric" being screamed by the Occupy Wall Street crowd today.
• Also in 2004, in what would prove to be perfect foreshadowing for their future love affair with Barack Obama, the paper, as mentioned above, endorsed John Edwards over the rest of the field. In doing so they wrote that after initially discounting Edwards because of his lack of experience, they changed their minds after hearing him eloquently speak about the needs of ordinary Americans—you can't make this stuff up! Clearly their weakness/hunger for the fool proof combination of inspired speech giving and inexperience had not been quenched by the time 2008 rolled around. This leads us to the biggest piece of evidence that all the Register is accomplishing is insulting our intelligence…
Reason #2-Â  The 2008 Debacle
While the preceding examples were shady, The Register's editorial board performance in 2008 showed beyond a reasonable doubt not only where their allegiance lay, but that the whole point of their endorsements are to further an agenda. They ended up of course endorsing Barack Obama in the general election, but it's the way they got there that is so telling.
First, they chose Hillary over Obama on the Democrat side, while endorsing McCain over the rest of the field on the Republican side. I don't doubt that the selection of McCain was largely due to him being the most moderate Republican in the field (though strangely he was a disturbing 'petulant, lone-wolf actor' eight years earlier), but he also would have been a "safe" choice at the time because he was polling in single digits and in 5th place. Picking a Republican that would not go on to win the nomination, like McCain appeared to be at the time, would have kept them out of the undesirable situation they eventually found themselves in—having to endorse their second Democratic pick over their first Republican choice (Obama over McCain).
Embarrassed and knowing they had to explain it away somehow, they managed to make themselves look even worse. They acknowledged the situation and explained their reasoning by claiming they had endorsed McCain because they felt he was a man of honor—but as the campaign wore on he became opportunistic and less dignified. What they cited as the biggest reason of why McCain was out for them was his selection of Sarah Palin. They did this, I kid you not, on the grounds of her inexperience! So to recap…The inexperience of a VP candidate turned them off enough that they instead chose to support, for the actual presidency, a man who had served less than four years in the Senate.
A great way to sum up the whole disingenuous circus is that while selecting McCain in the primary they said, "none can offer the tested leadership, in matters foreign and domestic, of Sen. John McCain of Arizona. McCain is most ready to lead America in a complex and dangerous world and to rebuild trust at home and abroad by inspiring confidence in his leadership." Contrast that with this insight as to why Hilary Clinton was a wiser choice than Obama, "When Obama speaks before a crowd he can be more inspirational than Clinton. Yet, with his relative inexperience, it's hard to feel as confident he could accomplish the daunting agenda that lies ahead."…You have to give them credit there–that was some impressive foresight.
Conclusion
Former Des Moines Register opinion editor Richard Doak, who authored the 2004 Edwards endorsement, summed it up best in a later interview. Sharing his thoughts on the process he said, "The primary purpose of editorials are to stimulate discussion in the community… and it's a vehicle through which the newspaper expresses its values."
Trust me Richard, Iowa Republicans are plenty aware of the Des Moines Register's "values". Perhaps if they used any manner of consistency in the endorsement process, beyond of course the consistency of their Liberalism, maybe more Iowans would "value" the paper enough to start buying it again.