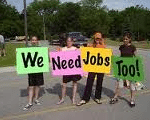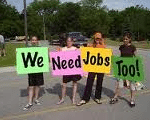 The following is an interesting study released recently, and the reaction by the GOP (written up by Jill J.).
In a policy study released by the Public Interest Institute at Iowa Wesleyan College, author Amy Frantz analyzed Iowa's teen unemployment situation. The report notes Iowa's unemployment rate for teens has remained consistently high over recent history. Two subgroups are analyzed within the data: teens ages 16-19 and high school graduates 18-20 years old.
The report notes that the unemployment rate for the 16-19 year old group was at a very high 12.3 % in 2002 and over the course of the last decade has remained at the high level, with the most recent report for 2011 showing that the unemployment rate for 16-19 year olds was 13.8%. This is much higher than the overall unemployment rate in Iowa which was just below 6% in 2011. Similarly, the 18-20 year old high school graduate group's unemployment rate was 9.6% in 2002 and has risen higher, peaking in 2010 with a rate of 19.3% before coming down below 18% in 2011.
Not only are the unemployment rates higher, but an analysis of the number of hours worked for these two groups has seen a reduction in the last decade as well. The average number of hours worked per week for the 16-19 year olds in 2002 was 12.5 hours, but has dropped to 8.1 hours per week in 2011. Again, the 18-20 year old high school graduates faced a similar situation wherein their average hours worked in 2002 was 21.1 per week, falling to 16.7 hours per week in 2011.
The study references the rise in minimum wage as one of the driving forces behind the tremendously high teen unemployment rate. Iowa's minimum wage was raised by the Iowa Legislature and Governor Culver in 2007 from $5.15 per hour to $6.20 per hour, and then in 2008 it was raised to $7.25. The federal minimum wage was also raised by the Democratically-controlled Congress, up to its current level of $7.25 an hour, matching Iowa's rate. The study links this rise of the minimum wage to the increase in teen unemployment rate, noting that "teenagers are five times more likely to earn the minimum wage than adults. Thus the impact of an increase in the minimum wage would be felt dramatically by that segment of the workforce." Those most hurt by a rise in minimum wage are often the youngest and most unskilled workers as businesses cannot afford to pay increased wages for individuals that might not have the necessary training or productivity to bring to the business.
Lastly, the study proposes an idea on how to lower the teen unemployment rate in Iowa. The study proposes to create a "sub-minimum" wage for teen workers in the state, which would allow businesses to pay certain teens an amount below the minimum wage that would apply to all other workers. The study concludes with the observation that "The benefit of having a higher minimum wage is cancelled out if teen workers are receiving fewer hours of work. And for those teens that want a job but cannot find one, their wages are $0."