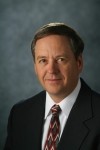 This is the second installment of a two-part interview, to read part one click here.
Education
Governor Branstad's legacy-minded education reform proposal has struggled to draw support since its release on October 3rd, and you can count Mr. Landon as one of those lacking in enthusiasm.
A core tenet of Landon's philosophy is local control. The benefit he sees in applying this principle to education is that the parents of each child, and the teachers in the actual class room, will have their voices better heard and their concerns more directly dealt with,
"My first reaction (to the governor's plan) is that it drives us towards more state control and more mandates on levels of performance. I think that we are going to have to reform the system, but I think that instead of less local control we need to focus on more local control. I think we need to make sure that the families, the school teachers, and the administrators all have their say on how this should be done. I really believe that parents and school teachers, the people who are in that sector, know the best for their kids".
Health Care
The Democrats failure last session to construct Iowa's insurance exchange program in accordance with Obama Care means that a nasty, brutal fight awaits next year. By all accounts this will be one of the three most high-profile issues debated by the Iowa Legislature in 2012, and one that ultimately drew fellow candidate Stacey Rogers (R-Ankeny) into the race. Landon, for one, would have voted no last year on SF 404 and sounds ready to engage in the fight,
"What would guide me is local control. The rights of District 37 residents and the rights of Iowans have to come first. Anything that's done has to be for their benefit and their economic interests. And frankly, I view Obama Care as unconstitutional from the get-go. I am not in favor of taking care of this through the government because they (the people) will not be taken care of the way they should be."
On Illegal Immigration
"I am a proponent of legal immigration. It is probably not that big of an issue in this particular district, but there are areas in Iowa where it is. As a state issue I would say that the Federal government, like in so many other things, has failed. I am against the taxpayer having to pay for the upkeep of people who have come here illegally."
Barring an unexpected Federal resolution to this problem Landon indicated a willingness to possibly engage at the state level, "If the Federal government won't do it and they are going to continue to let the border be porous, from the standpoint of public safety and who is going to protect the taxpayer, there has to be a process that protects you the citizen."
On Varnum (Gay Marriage)
"That should have been decided by the voters. That is a monumental shift in society and voters need to have their say. If a constitutional amendment is the only way for voters to get their voice heard on it, then we need to do it."
On The Tea Party
In response to a question seeking his thoughts on the Tea Party and if he would consider himself a "Tea Party-ish" candidate, he answered, "I haven't found anything in their platform that offends me or that I take issue with. I am for individual rights. I think people can make their own decisions and government would be well advised to pay attention to that. Having said that, I am part of the process and a consensus builder, I just don't think you can go out there as a maverick and get a whole lot done. What I want is for Lincoln and Douglas townships to flourish and for Ankeny to flourish. The only way I can do that is by being an effective voice, and the only way to be an effective voice is to be a part of the process."
Race Analysis and Summary
The contest for the Republican nomination in House District 37 will be of elevated importance as the probability is high that the nominee will ultimately be the Representative. Due to the fact that the district has a 2,400 advantage in registered Republicans over registered Democrats in what is already shaping up to be a Republican wave year, it is likely that the nominee may run un-opposed. Even more likely is that if the Democrats do choose to field a candidate they will not bother to recruit a top-notch challenger or commit substantial resources to the effort.
In what could end up being a crowded field of Republicans, John Landon is a serious contender who will be in it for the long haul. He appears both fired up for the race and ready to put in the time and work that will be required to win the seat. The major pillars that his candidacy will be built on are: less intrusive government, more local control, simplicity in legislative solutions, sensitivity to Iowa's taxpayers, and a vehement opposition to unfunded mandates.
In particular, emphasizing that the failure to make budget cuts leads to higher taxes and a crusade against unfunded mandates could garner wide-spread appeal in District 37.
As his background suggests he is clearly positioned in the race as the "business candidate." While often times the "business candidate" moniker is attached to folks who have had professional success, it's worth noting that the business-like way Mr. Landon breaks down large issues as he thinks through them suggests that he would translate these skills to governance should he be elected.
Though we are early in the process, as Republicans begin to look at the field they will find much to like about John Landon as a person and as a candidate.