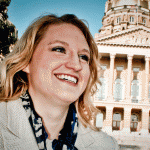 This is second installment of a 2-part interview.  To read part one click here.
Health Insurance Exchange
The debate raging on a national level regarding Obama Care has produced 50 separate state level clashes on this unpopular legislation's viability, practicality, and future. Currently 27 states are suing the Federal government on the grounds the law is unconstitutional, while last week a referendum in Ohio resulted in 66% of voters expressing their wishes to be excluded.
In Iowa the form this debate has taken largely centers on the state level requirement to set up a health insurance exchange to work in accordance with Obama Care. Democrats tried last session to construct this exchange but the measure failed and set the scene for an all-out slug fest in 2012.
The roll-call from this Democratic attempt, in which 12 Senate Republicans voted in favor of the exchange, was a major factor Ms. Rogers cites in spurring her decision to run for this House seat, "It was something that some of these Republicans campaigned against and then went in and voted for, and that was a real thorn in my side."
Besides viewing it as flatly unconstitutional, she would have voted no on the exchange for two main reasons. The first is due to differing interpretations on what failure to set up the exchanges would result in. Though the Republicans who voted in favor did so on the grounds that failing to do so would trigger authorization of the Federal government to do it for us, Ms. Rogers believes that not having the exchanges would result in Iowa receiving a waiver from the Executive branch:
"We have to fight the full implementation of Obama Care every way we can. The Supreme Court could announce as early as tomorrow whether they will hear the Obama Care challenges. Why would we volunteer to set up a new state bureaucracy before the Supreme Court has ruled? We shouldn't. Why would we set up a state exchange and volunteer to pay for that unconstitutional debacle? We shouldn't. Obama has stated publicly that he feels he will be forced to grant waivers to states that haven't passed the exchanges because there is no way to administer Obama Care without them. That means that by refusing to implement the health insurance exchanges, Iowans effectively have the ability to opt out of a major portion of Obama Care."
The second reason is funding, and more specifically the long and destructive history the states and the federal government have in jointly paying for programs, "State governments, including Iowa, so often get duped on the promise of free federal money. The issue with these exchanges is that they come in partially funded, and sure there is that promise of federal money there but the other part has to come from the state—and that means from the taxpayer. It's not just a tax hike up front with the federal government, that we can't control, but it is going to be a tax hike up front for the portion that our state has to pay."
Issues Going Forward
Education Reform
Having spoken to many Republicans, and interviewing multiple candidates and elected officials, you don't need to be a political expert to see that Governor Branstad's outline for reforming Iowa's educational system is in real trouble. Although constructed as a proposal big enough to build a legacy on, when you get equal blow-back from Conservatives and the teachers' union the chances of breaking ground, let alone building anything, are slim.
Having worked her way through college teaching private pre-school and kindergarten this is an area that Ms. Rogers has a special interest in:
 "I don't think its rocket science to figure out why people aren't rushing to support a plan that takes the best teachers out of the classroom at a time when we are trying to find ways to better reach children. The major problem I have with it is that the good teachers are going to be teaching 50% less, and how on earth are you going to help children when you are taking their teachers away? What the plan does is it increases bureaucracy and decreases the number of good teachers we have in the classroom."
Beyond disliking it for those reasons, she fears, and was told by a Department of Education employee in the Branstad administration, that one of the effects of the reform would be to divert good teachers from Ankeny to Des Moines. If true, this would not only threaten losing quality teachers in the classroom but possibly losing them to a school district outside of HD 37.
In place of the current system, and the Governor's proposed reform, the changes she would push to implement would have a different focus:
 "Educational choice is one of my number one issues. I love open enrollment because it does introduce an element of choice into the public school system. I would also go further and allow more freedom for home-schoolers, more freedom for charter schools, and more freedom for private schools. If vouchers are a part of that, even better, because they are a tool that introduces a market element into the system that lowers the cost and increases the amount of learning that is going on."
Illegal Immigration
Though failure to take control of the Iowa Senate last week severely reduced its likelihood, a widespread willingness of Iowa Republicans to address illegal immigration is beginning to form. Ms. Rogers indicated that she would favor potentially passing legislation to hamper Iowa's influx of illegal aliens and when asked specifically about Arizona's recent attempt had this to say, "I don't see anything wrong with what Arizona has done, because when they joined the Union they basically said that we are going to give you (the federal government) the responsibility to protect us and that this is no longer just our state's border but it's now a Federal border. All the Arizona law does is re-enforce the fact that it is still a state border. If the Federal government is going to back out of their responsibility to protect it as our nation's border I think that Arizona has every right to protect it as a state border."
Varnum
Although the list of Republican legislative priorities is long and getting longer, it's safe to say that passing a Constitutional Amendment barring gay marriage in Iowa has a home in the top three. In one of the most cowardly and inexcusable political maneuvers in our state's history, Mike Gronstal (D-Council Bluffs) has managed to save rural Democrats by robbing all Iowans of the opportunity to have their voices heard.
As one would suspect, being an attorney and a Conservative, Ms. Rogers has a strong opinion on the Varnum decision. From a legal perspective the two problems she has with the Supreme Court's ruling was that they considered some issues that were not part of the legal briefs filed and "they applied a heightened level of scrutiny to a new class, and created this class based on a behavior and not a real and immutable characteristic." Noting that she was not surprised by the unanimous nature of the decision she added, "I think it was a political decision from beginning to end and that they had the result in mind before they ever read the briefs."
Analysis of the Race
Three factors that are likely to come into play for her candidacy are how the district views the Tea Party, how she navigates through a crowded field, and how voters react to her relative youth. Far from shying away from any of them, she actually views all three as positives—and makes some very convincing arguments in the process.
For any Tea Party politician, whether running or governing, an issue always in play is the political peril inherent in cutting government and removing services that people have become accustomed to. While its effect will be softened by the fact that this is a Republican primary, and that applying Tea party principals at the state level as opposed to the federal level is a far different animal, it still will remain an issue. An example of this is that next session will gavel in with the Governor seeking legislative approval to cut Medicaid. This is a reality that Ms. Rogers recognizes and will seek to deal with in the following way, "You have to educate people and make them realize that some of these things are not theirs and that government can't give them anything that they don't first take away from somebody else. And if you wouldn't reach into your neighbors pocket and take it then you shouldn't be living your life in a way that you are willing to take it through the government."
The fact that there will be many other contenders vying for the seat does not intimidate her in the slightest and is something she sees as a net positive for the district, "I'm not afraid to run in a primary against five or six other people, and really I'm excited for the district because they will have an opportunity to vote for someone who is as Conservative as this district is and that shares their principles. Even being a lot younger than the other candidates, I still probably have a longer track record of political activism and fighting for these principles."
As she mentioned, at 25 she will be both the youngest person in this race and one of the younger candidates in recent memory to run for the Iowa House. While I could be wrong, my sense is that this won't play a big role in the race. I say this, first, because it would have to be brought up by another candidate and it's unlikely that this contest will devolve into that type of an unseemly affair. Second, as she notes, she has the background and the experience to offset and eliminate it as a viable factor, "I think that youth and inexperience can go together, but I've been in this long enough that inexperience isn't a word that applies to me. The two things that are really important are your motivation and your principals, and I have both in spades."
After spending a few hours with her, this is a claim that is hard to doubt. She has a keen sense of tactical politics and one could easily see her going toe-to-toe with both the fellow Republicans in this primary and opposing Democrats should she be selected.
The results of the recent Ankeny City Council election, in which the most Conservative candidates running all won, indicates that voters will certainly give her a chance to win them over. She will likely make the most of it—and in doing so make this race very, very interesting.
Photo courtesy of Dave Davidson, whose work can be found at prezography.com