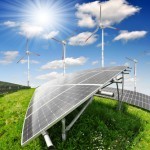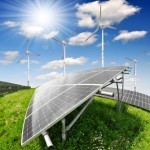 It may be a matter of opinion, but I was a bit disappointed with Wednesday's Iowa Energy Forum's "A Conversation On Energy Luncheon" event at Hy-Vee Hall in Des Moines.  A similar event was held by the group, which is sponsored by the American Petroleum Institute, last year (May 25, 2011).  One might think that an event hosting two sitting US Congressmen (Leonard Boswell-D and Tom Latham-R) who happen to be running against each other in this year's election would be an opportunity to have some real discussion about the issues impacting Iowa and American energy concerns, but compared to last year's event this was a bit of a yawner.
Last year we got a panel of experts from the Iowa energy industries discussing what's actually being done to expand the development of various energy technologies, including a strong speech by Governor Terry Branstad, and gobs of data regarding energy production and consumption in Iowa.
This year we got mostly platitudes and commitments to vote for good energy policy.
Both congressmen had an opportunity to speak without hearing the other speak first and then answered a few written audience questions.
Leonard Boswell
Congressman Boswell was rather distracted at first with pointing out his military record, which was totally irrelevant to the topic, and although he proclaimed support for the Keystone Pipeline he hedged regarding the routing of the pipeline as the only obstacle for approval of Keystone.  His message is essentially that we need "all of the above" solutions for energy independence, and that we need to upgrade the energy infrastructure including improvements to the electrical grid and expansion of natural gas fuling stations along the major interstates.
Boswell also made a point of discussing the impact of climate change on general infrastructure… he provided an anecdotal story about someone in Alaska that was showing him a location where the ground was dry and supposedly had 10 feet of ice many years ago.  His punchline for this was that permanently frozen ground did not require digging foundations for supports, but now that areas of the country are losing their permanent frozen ground, those things built on them have to be rebuilt.  Although I think the topic is worthy of discussion (and I give Boswell credit for not discussing the idea of human causality), I never got the connection to energy independence.  Maybe I'm slow.
Tom Latham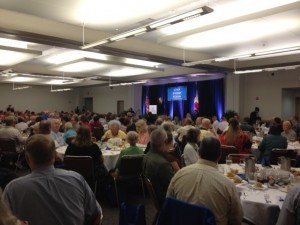 Tom Latham expressed the same support for Keystone sans concerns about the route.  He made an excellent case for the fact that in the early '70s, our leaders in Washington said we would never have another oil crisis because we would ensure that we had a fully independent domestic oil resource… but as soon as OPEC opened up the spigot we apparently forgot all that.  40 wasted years.
Not only did Latham attack Cap and Trade as ill conceived, he pointed out that the EPA was preparing to release a number of regulations the day after the election, each expected to cost Americans over $100 Billion, modeled after the failed legislation.
Latham also explained that with over $70 Trillion in long-term unfunded liabilities, expanding domestic energy production would bring the government tens of Trillions of dollars to fund those liabilities.
All in all, I appreciate both congressmen taking the time to share their thoughts about energy.  I would rather (or additionally) had some Iowa specific information provided at the event like last year.  Although the conversations with the congressmen were somewhat interesting and perhaps relevant to the upcoming election, the fact that the format was specifically non-partisan, non-debate, non-confrontational kept the whole impact very low.  I'm not really saying it should have been an election showdown… I'm just saying I could have gone to the two candidates web sites to get the total information I got at the forum and used a much smaller part of my day to do it.  I think this organization would do well to focus on promoting Iowa Energy production and the impact it is having on Iowa and the US.
The food was really good though.  (grin)
The Playground
Probably the most interesting conversation happened outside the event while Boswell held his media availability.  Short version is this: my friend Kevin Hall of The Iowa Republican had the "nerve" to ask the congressman whether he still supports Cap and Trade.  This set off a firestorm of reaction from Boswell's staff who could not believe the audacity of a mere "blogger" to represent themselves as "media" and ask the important man from Washington a question that doesn't need to be asked.

Yes, that really happened.

I don't want to spend the 10 'graphs that I have pent up inside explaining why this topic frustrates me (you'll get them soon enough).  It's not worth the time right now, and keeping this to the "short" version, I just want you to know this was the most childish response I've ever heard to a hard question.  It is to Congressman Boswell's credit that he did not join in the behavior of his staffers and answered the question.  You can read the whole story from Kevin here.

Oh, and the congressman said "Yes".  Of course he still supports Cap and Trade.

Other commentary and analysis of the forum: Caffeinated Thoughts, The Des Moines Register, and more Des Moines Register.

Photo 1 © vencav – Fotolia.com Photo 2 © The Conservative Reader.