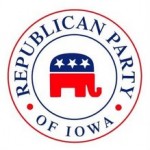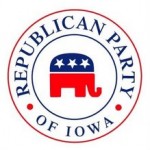 Matt Strawn, Chairman of the Republican Party of Iowa (RPI), announced today that Sarah Palin will be the Party's special guest at their upcoming fall dinner.  The Reagan Dinner: A Salute to Freedom will be held on Friday, September 17 in the evening, at a location and time that are yet to be determined.
"The Iowa GOP is pleased that Gov. Palin is traveling to Iowa to join the battle to return principled, conservative leadership to Iowa," said Chairman Strawn. "Our economic and personal freedoms are under attack in Washington, DC and Des Moines. I know Iowa Republicans will be energized and motivated by Gov. Palin to stand up and fight for these principles all the way to Election Day and beyond."
As noted by Craig Robinson at The Iowa Republican (TIR), the former Alaska governor and Vice-Presidential candidate has not been in Iowa since a book signing last December.  Although she trails in a recent TIR poll behind three other candidates for the Republican nomination for President in 2012, she continues to be a favorite among many conservatives.
Strawn noted that while Palin is popular among Iowans, the current economy is challenging for many Iowa families who may wish to attend. That is why the Iowa GOP is offering Iowans an opportunity to volunteer through any of its ten statewide Victory Centers in exchange for a ticket to the Ronald Reagan "Salute to Freedom" Dinner.  For additional details regarding volunteer opportunities, Iowans should contact their local Iowa GOP Victory Center (locations and contacts listed below) in: Ames, Cedar Falls, Council Bluffs, Davenport, Iowa City, Cedar Rapids (Marion), Mason City, Ottumwa, Sioux City and Urbandale.
Tickets will be $100 each, or $1,000 for a table of eight, and can be reserved by emailing [email protected] or by calling 515-282-8105.
Ottumwa
Heather Fransen – 641-210-2865
[email protected]
219 East Main St.
Ottumwa, IA 52501
Urbandale
Ryan Gough – 515-991-6024
[email protected]
3590 109th St.
Urbandale, IA 50322
Cedar Falls
Bill Hunt – 563-564-1011
[email protected]
4807 University Ave., Suite 201
Cedar Falls, IA 50613
Council Bluffs
Kip Murphy – 712-204-7022
[email protected]
600 South Main St.
Council Bluffs, IA 50613
Ames
Dane Nealson – 515-418-6780
[email protected]
413 Northwestern Ave., Suite 101
Ames, IA 50010
Davenport
Tyler Reyes – 563-564-6288
[email protected]
311 W. Kimberly Rd.
Davenport, IA 52806
Cedar Rapids
Phil Valenziano – 563-564-1671
[email protected]
500 Marion Blvd.
Marion, IA 52302
Mason City
Information available shortly (new location opening on 9/1/10)
Sioux City
Zach Whiting – 712-204-8471
[email protected]
514 Nebraska St.
Sioux City, IA 52302
Iowa City
Aaron Windeknecht – 563-564-6585
[email protected]
107 5th St.
Coralville, IA 52241