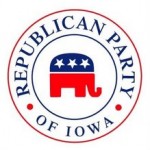 Tonight Republicans from around Iowa met at the Elwell Family Center at the Iowa State Fairgrounds.  Isaiah McGee, Iowa State Central Committee Member, acted as Master of Ceremonies.  He made some brief remarks, including "We Must Unite!"
Video presentations from David Vaudt, who criticized Democrats 30% slash of his budget as an attempt to "muzzle the taxpayers' watchdog" and Bill Northey who wants to see more republicans in the state capital.
Representatives Tom Latham and Steve King could not attend, but they probably had a good excuse since they are working in Washington tonight.  Both provided videos where they spoke to the health care bill being debated today.  Both are trying to kill it.  King stated that "Iowans need to speak out until the bill is mortally wounded with a stake in its heart!"
Huge applause came for Senator Grassley as he stepped on the stage to speak.
Quotes from Chuck Grassley: "Our common focus is leadship and vision for the future.", "Iowans of every political stripe were telling me, both by words and by action, that they are scared." "For the first time in the history of the United States the government wants to tell us we must buy something."  Grassley also mentioned that Republicans have a 200 page bill as an alternative to Democrats 1,995 page bill.  "They want to redistribute wealth, they want to take property without just compensation, and that is not Constitutional.  That won't happen on my watch."
Quotes from Matt Strawn: "It's a good week to be a Republican, not just because of how we won, but how we were able to show the distinctions between Republicans and Democrats to the voters.", "Iowans are desperate for competent leadership."  "Real leaders don't sign the largest budget in the states history and then try to convince iowans otherwise." 
Pawlenty: "Chuck Grassley has changed Washington more than Washington has change him." "(Re: Virginia and New Jersey) We need to launch the same comeback across America." 
Tim Pawlenty provided a stimulating speech to Republicans in Iowa tonight.  It was clear before too long that he was working on his 2012 campaign, but provided ammunition and motivation to push folks toward 2010 as well.
All of the candidates for Governor provided strong speeches, each providing their own unique angle on pretty much the same message: Culver is making a mess of things, we need to cut spending, fix the definition of Marriage, bring more jobs to Iowa by making the state more business friendly. 
Tonight was the first big night for Republican activists to get a taste of Terry Branstad 2.0 (or perhaps 2.1).   He seemed a little rough tonight, starting out hesitatingly, but he eventually warmed up and did well. 
A major benefit of tonight's event is the continued opportunity for activists to hear not just stump speeches, but ideas.  Although Republicans will be selecting one person to run against Chet Culver, the combined voices of all of the candidates bring some great perspective, great ideas, great concepts to merge together into a platform that our candidate for governor, whoever that ends up being, can bring.  The crowd tonight was well engaged… the big challenge is to keep them and voters engaged through the coming year and maintaining focus.
You can watch the entire event at CSPAN's web site shortly.  We will provide a direct link to the video tomorrow.