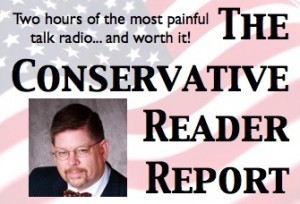 This will be a great week on The Conservative Reader Report as we host the Conservative Bloggers Forum from our Internet Radio studio on Des Moines Local Live! Â Shane Vander Hart (Caffeinated Thoughts) and Grant Young (Questions Comments and Insults) will join me to talk about the big issues of the day, including the meaning of being Conservative, the war in Afghanistan, and the war on Culver.
In our second hour, Peter Cownie, President of Junior Achievement of Iowa and Representative to the Iowa House from District 60 will be on the show to talk about his passions and the upcoming legislative session only a few weeks away.
All this plus government and political news updates AND the Smart and Dumb politicians of the week on The Conservative Reader Report!
Join us on Tuesday December 8 from 3:00 to 5:00 Central on Des Moines Local Live Internet Radio!
Remember, The Conservative Reader Report is not so much a news organization as it has a perspective!