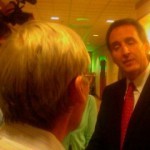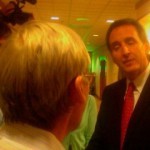 Overall, this was probably the most entertaining political event that I have attended yet this year. Â  Hats off to Iowans For Tax Relief (ITR) for putting on a great program!
The afternoon consisted of a speech by Minnesota Governor Tim Pawlenty (who is currently considered a likely candidate for President in 2012, but is being shy about the idea), and 8 minute speeches by each of the candidates for Governor (except for the Democrat) intended to be focused on the Iowans for Tax Relief Candidate Questionnaire.  The actual answers provided by the candidates to the questionnaire will be at ITR's web site on Monday.  Dave Stanley, Chairman and Founder of ITR and Ed Failor, Jr, President of ITR, spoke at the beginning of the event (I don't think the video below includes Dave's remarks).  Kathy Obradovich from the Des Moines Register was the MC during the Candidates portion of the program.
Governor Pawlenty
Governor Pawlenty gave a solid speech addressing some of the key problems with our government from a tax and spending standpoint, which was very appreciated by the crowd.  Highlights included:
"Progressives are proposing solutions from Eastern Europe from a century ago."
"Our leader's are too small to do anything about our problems."
"Wall Street gets a bailout, the poor (understandably) get a handout, and those of us in the middle get our wallets out."
"Our rights are given to us by our creator, not by our congressmen/women."
"We should have an economic bill of rights which includes: Balanced Budget … Line item veto … Super majority to raise increases or the debt ceiling limit in this country."
"People spend money differently when at least some of it is their money."
"For the United States of America to be safe, needs to be strong."
"If freedom was easy, everybody in the world would be free.  If prosperity was easy, everybody would be prosperous.  If security was easy, everybody would be secure."
After his speech, Pawlenty took questions.   This is a link to the audio for the Q&A. I apologize for the noise at the beginning.  Mike Glover from Associated Press asks the first couple of questions, followed by Craig Robinson from The Iowa Republican, then myself, and then one or two others.
Candidates for Governor
All of the Republican candidates for Governor gave their typical positions on taxes and spending, and did a great job.  Since I continue to stay neutral regarding the Primary, I will not address that further.  But the video above covers it, and each speech being 8 minutes it's not very long to watch.  All of the Republican candidates were very positively received.
Also speaking was the Independent Candidate, Jonathan Narcisse.  I have interviewed Jonathan a couple of times and he has a very dramatic plan for Iowa.  I'm convinced that Jonathan is more conservative than he realizes, and his determination to reduce the role of government to its bare minimum.  I have challenged him in the past regarding a few details that seem like yet too much government in controlling even voluntarily financed programs, but he did not really get into that on Saturday.  Jonathan speaks to even property tax reforms to limit tax assessments to purchase price on property, and dropping the state sales tax to 3% over 4 years.  He continued with a number of others ideas, all of which culminated in a dream of a highly prosperous Iowa.
We also got to hear from the Libertarian candidate, Eric Cooper.  He has no illusions about becoming governor, but is focused on raising enough votes to cause people to pay attention to what the party has to say, establishing an effective dialogue.  His message, and dramatically and humorously presented, was that government should be doing nothing but those tasks that require the force of government.  Security from external enemies, crime, infrastructure.  He highlighted the fact that people came to Iowa and America was because we did excessively tax people, and let people do what they wanted as long as it didn't limit the freedoms of others.  He used the Iowa state motto, "Our liberties we prize and our rights we will maintain", as an effective reminder of the importance of importance we have always placed in our freedoms.
Both Jonathan and Eric probably experienced the greatest opportunity for conservative activists to hear their message and discover how well those candidates' positions align with theirs.  I was very disappointed with WHO-TV for ignoring the non-Republican candidates, and with KCCI-TV for ignoring the candidates for governor altogether on their broadcasts that evening.
The crowd was a veritable who's who of Iowa Conservatives, and we were told that there were 558 people, possibly more by the time we got done.  I was very impressed overall with the event preparation, and the quality of the event.  Not only was the access to the candidates for Governor valuable, but the well focused oratory from a group of very thoughtful conservative minds was engaging and highly useful for the activists in the room who are not just deciding who to vote for, but how to better articulate their own positions on these issues.  Katie Koberg, Vice-President of ITR, made a huge effort to communicate effectively both before and during the event, and the whole staff kept everything running smoothly.
One more thing.  Ed Failor Jr took a swipe at Governor Culver because he did not respond to the invitation.  It was justified to an extent, although I cannot imagine there being anything that the Governor could say that would be received well or believed by this crowd.  But I think it shows a real lack of leadership that he is unable to come before a group like this and make his case for the current state of affairs.
I'm not surprised by that.