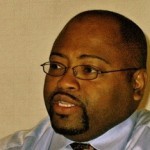 Since we tried to have a show with Jonathan Narcisse a couple of weeks ago and had a "technology fail", the former Des Moines School Board member and possible candidate for Governor of Iowa will join us again!  We will spend two hours talking about his campaign and his vision for Iowa.
This will also be the last episode of The Conservative Reader Report, at least for now.  I need to rework my priorities, and as much as I truly enjoy doing this show, I'm just doing too much.  But fear not, the blogs will benefit as I have more time to focus on writing.
Tina Johnson will be taking the 3-4 slot and Jeff Bratz, whose show follows mine, will be adding an hour to his show and will be on from 4-6.  Des Moines Local Live rocks, and I hope you will continue listening to the great local and live content that is being provided there!