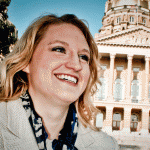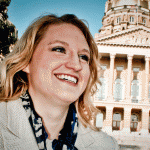 This is part 1 of a 2 part interview.  Part 2 deals with Obama care, education reform, illegal immigration, the Tea Party, and other topics.  It can be linked to at the conclusion of this installment, or by clicking here.
With a 68% increase in population since 2000, and Bloomberg reporting it is now the fastest growing city in Iowa, there is no doubt that Ankeny is rapidly expanding.
As population over the last few years has shifted to Ankeny, so too has the ideological focus of the Republican Party shifted to the right.  Just how far right this Des Moines suburb, and longtime Republican stronghold, has moved politically will go a long way in determining who wins the Republican primary to represent Iowa's House District 37.
This impending barometer has been put in play by the candidacy of Tea Party Republican Stacey Rogers, who will be one of at least four Republicans seeking this house district's nomination.  I recently sat down with Ms. Rogers to discuss her political resume, her ideology, and how she would like to influence the future of HD 37.
The Background
Though she was born in Colorado, Ms. Rogers' parents grew up on family farms down the road from each other near State Center, and in an ironic twist her mom actually attended high school with fellow HD 37 candidate John Landon.  These roots caused her to return to Iowa during the summers as she was growing up, before eventually leading her to come back to our state for law school. After graduating in three years from Colorado State University she headed back for good and enrolled at the University of Iowa School of Law.
Her time attending law school at the University of Iowa pushed her into the world of politics, a push initialized by being exposed to and surrounded by a level of left wing ideology that took her by surprise.  Having decided to politically engage, she applied and was granted the opportunity to spend a summer working in Arizona for one of the most esteemed Conservative think tanks in the Country—The Goldwater Institute.
In addition to this she has worked as a staffer for Iowa State Senator Mark Chelgren (R-Ottumwa), became active in The Iowa Tea Party, and recently served as Republican Graig Block's campaign manager in his successful re-election bid to the Ankeny City Council.  She is currently practicing law for the Ankeny based firm Block, Lamberti & Gocke, P.C.
The District
Paramount to gaining an understanding of a candidate is learning how they see their district, where they stand on local issues, and how they analyze their district's role in the larger state-wide picture.  Ms. Rogers has strong views on all three.
When asked about the district's positive attributes, she pointed to its unique geographic make-up, "This district has some of Ankeny in it but it also has some rural areas in it, it really is a great sample of Iowa.  The good thing about Ankeny is that it is growing but it still has that extremely small town feel where everybody knows their neighbor."
On an economic level she commented that, "For the most part, and compared to the way the economy is going overall, Ankeny is doing really, really well."  Weighing in on the reason for the district's Republican leanings and general weariness of ever-increasing taxes she noted, "Especially in the northern part of Ankeny, the people are largely living in new housing developments and they clearly worked hard for that money, and they worked for it recently."
Also making her list of positives is the relative high quality of the school system, something she largely attributes to the area's residents, "Probably the greatest difference between Ankeny schools and the schools in Des Moines is the amount of parental involvement."
The school district and community involvement are both things that have been front and center recently as the city's school board has made the somewhat controversial decision to split the town by simultaneously building two brand new high schools.  Though not under the jurisdiction of the seat she is running for, Ankeny residents would no doubt be curious as to where she stood on this hot-button issue:
"Eventually two high schools were going to be a necessity; the questionable spending was that they somehow needed two identical high schools at the same time.  I would have been against the second high school from the beginning but at this point you really can't un-ring that bell.  That whole debacle just exposed this community to debt and the threat of more debt that could threaten its status as an engine of economic growth and development right now, because people are not necessarily going to want to continue moving to Ankeny if there is that threat of more bonding."
While noting the need to heal the rift between more moderate Republicans and the Tea Party, she views this seat as having a particular function in the larger statewide picture:
"Whoever gets elected to this seat is going to have the opportunity to use this seat as a bully pulpit.  We need to make sure we elect a Conservative that understands the importance of this seat, and that they have a chance to be the voice of the true Conservative position.  Somebody under the golden dome needs to draw the line in the sand about what that position really is, and I think too often what happens is that the Republicans who are interested in 'good governance' offer the compromise solution up front and give up a lot of ground in that approach."
Issues From Last Session
The Budget
Even though Republicans controlled two of the three segments of government last session, you can count Ms. Rogers among the large contingent of Conservatives unhappy with the resulting state budget.
At the heart of this displeasure is what she saw as a tactical error by the Governor in structuring our outlays, "I think our budget this year could have been much lower, and that we sacrificed a lot to the idea of two year budgeting."
Instead of insisting on a two year budget, and eventually bartering in order to achieve it, she would have taken an alternate approach:
 "0% allowable growth was still an increase in funding for schools because it was fully funded, something that the Democrats never did—and we still gave up the 2% allowable growth in the second year in order to get the two year budget.  I would much rather of had the fight about allowable growth again next year because I think people started waking up to the fact that we are actually giving the schools more money by fully funding them."
Commercial Property Taxes
The overwhelming evidence and the inescapable mushrooming nature of Iowa's commercial property tax code resulted in a political rarity last session—partial bi-partisan agreement.  The fact that nationally Iowa ranks in the top 10 in every type of property tax levied on commercial and industrial property, and that The Tax Foundation rated Iowa as the 45th worst business tax climate in the Country, led to all three players in our state government laying tax reform proposals on the table.
On the Republican side were competing proposals from the Governor and the House of Representatives.  The Governor's plan would have ultimately taken a bigger bite out of the bill currently paid by Iowa businesses and would have been the one a Rep. Rogers would have embraced, "I would probably have supported the Governor's plan.  It went deeper and I think that if you are going to do property tax reform then you need to do it all the way, and I think that his plan was a tougher stand than the House Republicans."
To read this articles conclusion, dealing with pending issues facing Iowa and analysis of this race, click here for part 2.
Photo Courtesy of Dave Davidson, whose work can be found at prezography.com