Filed Under: 2012 Elections, Business, Education, Elections, Featured, Featured Local, Iowa, Iowa General Assembly, Iowa Politics

Print This Post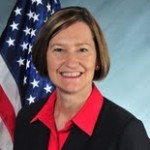 (This is the second installment of a continuing series posing 3 questions to Republican candidates statewide) 
Vicki Stogdill is running for the seat representing Senate District 18 in the Iowa Legislature.  She has been campaigning hard for months to give this traditionally Democratic territory a new voice at the State House.  Every race in the Iowa Senate this year is of utmost importance, and Stogdill's effort to engage the voters of District 18 will reveal much about the Iowa electorate at large.  Voters both in and out of her district should take the time to check out her positions and background on her website, and to show her support in any way they can.  She brings to the table a long career in small business and a host of new ideas to strengthen Iowa's communities and economy.
Recently, Vicki was kind enough to sit down with The Conservative Reader:Iowa to talk about her campaign and answer three questions that will have a direct impact both on her constituents and the state of Iowa.
—————————————————– —————————————————————————————————-
1.) Nearly 28% of the voters in your district are not registered with either political party, what two things would you like these folks to know about you and your candidacy before they vote in November?
A.  I ran as an Independent/NP candidate in 2008 – which demonstrates that I'm not afraid to stand up for principles before a party affiliation.  I won't support a bill that's not good for Iowa, regardless of party recommendations.   I want to foster greater cooperation between the two parties.  People are tired of the "partisanship" at our State Capitol, and I'd like to help minimize that.  Instead of the two parties going to their "opposing corners" in a disagreement, I will attempt to sit down and discuss where there are differences and find common ground, without compromising on principle.  I will put "people before politics."
B.  I will self-impose term limits to allow more Iowans to have a chance to participate in the process.  I want to bring my business experience, creativity and problem-solving skills to the Iowa Capitol and have a positive influence on improving the future of our State.  Let's bring fresh ideas and perspective to the discussion.
2.) Education is both an issue you are passionate about and one that will be front and center next session.  What major reforms need to be implemented to improve results state-wide (and in Des Moines especially), and why should voters resist the urge to not make these changes?
First of all, I don't claim to have all the answers on how to "fix" Iowa's Education system.  However, I believe one of the biggest keys to restoring our State to excellence in education is to restore more local control to school districts.  I am also a strong proponent of giving parents more choices in educating their children, and to having the dollars "follow the child" in those choices.
Iowa should repeal the "core curriculum" mandates and instead offer recommendations which would allow local school districts to decide how and what to teach again.  Locally elected school boards and administrators should make curriculum decisions based on the needs of their community, such as whether to enhance vocation programs for kids who do not choose a 4-year college after graduation, etc.  The Iowa Dept. of Education should be downsized to serve as an advisory support agency instead of an umbrella.  The State should continue to license and certify teachers.  School districts should conduct annual assessments (such as ITBS) and scores should be published locally for taxpayers to see what kind of results they are getting for their investment.  The State would only step in if a school district is consistently under-performing.
While technology and cutting edge learning must be a priority — we can't lose sight of the "tried and true" teaching methods and foundational basics that have served us well in the past.  And throwing out "old" methods just because they're old isn't necessarily progress.  Teachers should have the ability to use their creativity again – to inspire kids to learn, with oversight from their local school administrators and school boards, instead of the State.  Iowa must stop trying to mold each child into a cookie-cutter curriculum and teaching methodology that obviously isn't working. Iowa should continue to reject "No Child Left Behind" mandates.
In Des Moines our test scores and drop-out rates demonstrate that local voters need to recruit better local school board candidates and then "clean house" at the voting booth.  The results of our local schools are unacceptable at best, and it is not the job of the State to fix it – it is the responsibility of the community to demand it.  Local taxpayers must hold their local school boards and administrators accountable.  When searching for administrators, we should look first at the wealth of Iowa educators who are qualified to lead our schools – instead of conducting expensive searches to bring in out-of-state educators.   We have more than enough talented educators in Iowa who already know the landscape, challenges and history of our state.
A few other ideas that are worthy of consideration are to implement a dress code so students could focus on learning instead of fashion, which might also improve discipline and respect in our classrooms.  We must also realize that it's not the job of schools to "socially engineer" our kids—that task is the duty and responsibility of parents.  In the Iowa Senate, I will work with educators, parents and the business community to arrive at recommendations which will prepare students for a career path after graduation.  Iowans deserve better than what we're currently delivering in Education, and I will work tirelessly to achieve positive results for Iowa's kids, parents and taxpayers.
3.)Â  Should you prevail in November and enter the Iowa Senate, what are the two or three votes you would most like to cast, and why?
While there are many bills I'm passionate about seeing passed – these three are among the most commonly suggested from my constituents, so they will be top priorities for me in the upcoming session:
A.  Voter ID – because NOT verifying the identity of voters is unconstitutional – and my vote is disenfranchised when fraud is allowed to potentially cancel it out.
B.   Property tax reform – on all classes of property.  For businesses, this will spur more expansion and investment which in turn will create more jobs when we stop penalizing the very engine of economic growth.  For homeowners it will mean leaving more money in the pockets of those who earned it. For farmers, it will mean using a funding formula that doesn't penalize them for success.
C.   Education Reform, as discussed above.
About the Author
Mr. Arnold is a long time constitutional conservative. He holds a Bachelor of Arts Degree in English Literature from the University of Iowa. Over the last few years he has been involved in numerous political campaigns, most recently serving as campaign manager for an Iowa House candidate and serving as a city chair for Tom Latham. He is self-employed, running a small business in Ankeny, Iowa where he resides with his wife.
3 Comment(s)
rardSkits | May 18, 2020 at 12:18 pm | Reply

https://iamnotarobot.net/zip-doja-cat-hot-pink-album-download-full-high-quality/

2020 updated!
JUNE 2020 MIRRORS!
Rar File Download Doja Cat – Hot Pink Album (Leak)
Telecharger~ Doja Cat – Hot Pink Complet Album Gratuitement
Download)] Full Doja Cat – Hot Pink Mp3 Album 2019 Zip
2019 Doja Cat РHot Pink T̩l̩charger (Album Gratuit)
Download#] Doja Cat – Hot Pink Album Download. Zip-Torrent/Mp3 2019
Zip File! Download Doja Cat – Hot Pink Album 23.04,2020
@[email protected]] Telecharger Doja Cat – Hot Pink Album Gratuit
L.Album] Doja Cat – Hot Pink ~Mp3~ Full Zip 23.04,2020
Album] Doja Cat – Hot Pink ~Mp3~ Full Zip 23.04,2020
Album #Full# Download Doja Cat – Hot Pink 2019 Working Zip
Is leak Doja Cat – Hot Pink Download 2019 Torrent Rar]
.zip Download Doja Cat – Hot Pink Mp3 Album 2019} Hot Hq

rardSkits | May 19, 2020 at 2:29 pm | Reply

https://iamnotarobot.net/zip-doja-cat-hot-pink-album-download-full-high-quality/

2020 updated!
JUNE 2020 MIRRORS!
Rar File Download Doja Cat – Hot Pink Album (Leak)

LorenaBlairmag | May 20, 2020 at 9:23 am | Reply

Date Asian adult females

updated in Dating Tips, online dating tagged Asian lady, Autumn adult dating, , just fall in love this fall, IDwheneAsia at 8:48 am according to Idateasia

It's finding cooler, Can you experience it? yes, Autumn got here. And the particular of summer. I know most of you are gonna miss the summertime days and parties! yet still, Autumn is yet another great season. It just amuses you differently.

Personally autumn is my personal favorite season in a year; the elements is really comfortable, Neither too hot nor freezing. the actual becomes quiet, And you look out of the window seeing a leaf dancing in the air and then fall down on the shoulder of a young man, But he doesn notice that and keeps talking to the girl next to him and she's giggling. What a nice sight!

Autumn is a nostalgic season because it can easily wake up the deepest emotions in your heart. It reminds us of the past and the joyful memories then, And it makes us happy and feel a little sad in once. to shed weight single, just like me, It might also remind you of love and romance. Your heart feels empty and wants something in order to meet it. the impulse for love is never so strong. Here are some tips where you can amuse your lovely Asian lady:

Write her an enchanting love poem. Women love sweet afro introductions reviews words and they always want to be the heroine in perfect, Your story along with your poem. It's have to to be very long, Just simple and sweet. in the end of the letter, Attach a recent photo of yourself enjoying the autumn day.

Sing a love song on her behalf. Pick a love song and record it by computer or other record device, when it is done, Make a love call to the lady and let her hear it the actual phone. it is a surprise!

Fly over to find her. If you been dating for many months and get ready for the next move, Your unexpected show up must become one of the better memories in her life. Then you can walk down the street with your beautiful Asian lady, You're debating, She's giggling and the leaf's dancing up.

just fall in love this fall. yeah, it again FREE, to phrase it differently, You can have a trial of its featured services like browsing photos of gorgeous Asian singles and a brief live chat with pretty Asian girls without costing a penny, after which you it your call, To decide contacting be the member of this Asian dating site or not.

first off, This trial offer is open to anyone who wants to find a Southeast Asian girlfriend or a exotic Asian bride. So if you seeking an interracial kinship with some hot Thai girl, peaceful Vietnamese lady or sexy Philippines woman, Don miss the prospect! bad in!

And exactly what can you get from the FREE trial? 1) 20 minutes of FREE online chat with the hottest Asian singles; 2) 5 FREE e-mails or EMF mail correspondences; 3) Browse photo of thousands of prettyAsian ladies; 4) Get a FREE view show along with hotties.

So do you want to get the FREE TRAIL now? Click this link to create an account and finish the sign up process with your basic details, you certainly get the OFFER!

late 5, 2013Lady, So visit Me, could be?

Posted in dating services tagged Asian dating, , IDateAsia agencies, lovely lady call me, online dating service personals at 8:31 am before Idateasia

Carly Rae Jepsen gets popular expected her song Call Me Maybe. people enjoy this song. And I also in love with it. I guess it tells our deep desires to be chased and to be loved! in general, Girls will give out their telephone number when they meet someone handsome or attracted to them, Hoping that a person day he will call her and ask her out for a date. But why not consider guys? Should he wait to get the contact number? How about he supplying the contact way and letting girls make the first call? can it be possible?

sure, people, You can actually make her call you first. clearly, Our staffs always hear your requests and are making every effort to improve our dating services to meet your needs during the online dating process, So most recently iDateAsia has launched a new featured service LADY CALL ME!

Call Service is a practical way to hear her voice! Use any mobile phone or land line to get connected and talk to your girl directly or in a 3 way call with professional translation assistance to help overcome language and cultural barriers! There are 3 ways to make a Love Call on iDateAsia, split second Calls, booked Calls and Lady Call Me.
Post a Comment