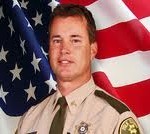 While much of the attention and focus when we head out to vote in November will be on the various partisan political races on the ballot, residents of Polk County will have another very important decision to make–who will be guiding the law enforcement efforts that protect us.
Though it may surprise many, the reason this is important is that some very basic laws on the books are being relegated to the back burner by current Sheriff Bill McCarthy–who has instead decided that the crack down we need is on those breaking the speed limit.  While many living in the suburbs are unaware, not all places in Polk County are as safe as the neighborhoods most of us live in.  The emphasis and aggressiveness in enforcing current law is vital to improving our safety, protecting our rights, and stamping out problems before they become out of control and directly threatening.
Opposing Sheriff McCarthy this November is Dan Charleston.  I would encourage all of you to take a minute and visit his website – Charlestonforsheriff.com – where he goes into detail on the many hot-button issues that are on the table and how he would approach his law enforcement duties in general.
He was kind enough recently to answer some questions for The Conservative Reader: Iowa–mainly focusing on the impact a new Polk County Sheriff could have if he is elected in November.  Here is what he had to say:
Should you defeat Bill McCarthy in November, what are the top three things that the citizens of Polk County would notice a change in?

Honoring the Oath of Office and ensuring the protection of individual rights as laid out in the US Constitution and Bill of Rights, will be the first priority when elected Sheriff.  We will lead together with innovative ideas and solutions to better serve our community.  This will restore faith, hope, and the belief that there is a better future for our families and our right to life, liberty and the pursuit of happiness.

The Polk County Sheriff's annual budget is over sixty million dollars. The 2011-2012 budgets will bring a mandatory cut of more than 2.5million dollars.  There are many ways to accomplish this:  retirements, reallocation of top management positions to line staff, inmate food service, fewer take-home cars for positions which do not require one, alternative work schedules, and management to staff ratios brought within the national average.  This does not require the loss of staff jobs or a consulting firm's opinion at taxpayers' expense.

Recently the Sheriff and board of supervisors voted to allow speed cameras placed in vehicles throughout Polk County.  I believe this is unconstitutional based on the sixth amendment. I would not allow the use of speed/red light cameras in Polk County and would lead the effort in getting them removed throughout the entire county.

What would your top priorities be on day one, and how would you best describe your managerial and law enforcement philosophy?

I believe the top priority at the Polk County Sheriff's Office is to restore the morale of the staff.  There is a lack of faith in the leadership which affects the work ethic and overall attitude of the employees.

I believe in maintaining service before self; doing more with less; providing fiscal transparency, common sense solutions, honesty, accountability, trustworthiness, respect, loyalty, and fairness. I also believe in community and an attitude of service shown to the people whom we serve as law enforcement professionals in Polk County.

I believe a law enforcement organization cannot expect to grow and prosper if the skills of its people do not consistently do so. I believe in leading by example through realistic training, innovative ideas, on-going law enforcement education and common sense solutions when issues arise.

I believe that when we promote great leaders, it affects the work ethic, self- worth and pride of our organization, which will then be apparent to the people we serve.  I believe Integrity is the most important thing a man or organization can possess, and with it, pride and a humble spirit is shown.

How has the campaign been going?  Was there one event or occurrence that drove you to run for this office? Name one impact that a high quality County Sheriff can have on a community that might surprise some people?

The campaign has been going outstanding.  The volunteers, radio, TV, webcasts, house parties, public speaking and parades have been very rewarding and informative.

Having been in the military and worked for Los Angeles Sheriff's Department, I have been a part of first class organizations. Having this experience gives me better vision to see where Polk County needs improvement in its law enforcement practices.  Through proactive law enforcement, we can reduce gang activity, drug trafficking, illegal immigration, and unconstitutional speed cameras and lead the way for constitutional carry in this great state of Iowa.