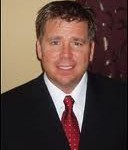 Last night's Polk County Central Committee meeting was a harbinger for both good and bad things to come for the future of Republicans in Polk County.
The Highlights
Among the several speakers to address the committee were Polk County Sheriff candidate Dan Charleston and Senator Rick Bertrand (pictured at right).  Charleston has been very active in his attempt to unseat his boss Bill McCarthy, who has once again doubled down on his support for spreading controversial traffic cameras throughout Iowa.  His bid to remove McCarthy will not be easy, however, this is an outcome that becomes more possible with McCarthy supporting a hot-button policy that the majority of Iowans reject.  While Conservatives throughout Polk County will be rightly focused on state and Congressional seats in the coming months, it would be a mistake to ignore this race for sheriff.  It can be easily argued that the performance and priorities of law enforcement has an equal impact on citizens at the County level as legislative seats.  All Conservatives who are unaware of this race would be well advised to visit Dan Charleston's website, were he lays out his positions on several issues (including traffic cameras and illegal immigration).  It is safe to say he would bring a far different mindset to the job–and there is much to like.
While Senator Rick Bertrand was not on the agenda to speak, all in attendance were glad he made the trip.  Speaking for nearly 20 minutes, he got fired up covering topics ranging from his background, his victory in a legal slander case against Iowa Democrats, and the future agenda of Senate Republicans.
Beyond being a gifted and enthusiastic speaker, the real positive to take away from his presence in the Iowa Senate is his potential to bridge the divides that have recently been created by the emergence of a more Libertarian brand of Republican in the party.  I have asked him personally about the prospects of real legislative results from the Conservative movement in the Iowa Legislature–and I assure you he has a plan and will be front and center in achieving it.  In my view, he is one of a handful of current Republican legislators who can effortlessly bridge the gap between the old and new guards in the Republican Party.  In the coming months The Conservative Reader:Iowa will be laying out exactly what this 7 issue action plan is, and will be looking at each in detail.
The Low-Lights
Having been in attendance at the last two Central Committee meetings, there is little doubt left that the drama surrounding last month's meeting is not going away.  The divide between Chairman McLaughlin (along with other members of the leadership), and co-chair Dave Funk is quickly approaching critical mass.  Several times during the meeting there was open bickering and contention between the two.  This was taking place not in the side or back during down time, but actually during the meeting and at the front of the room.
As of this time I am not taking sides.  Far more important than taking sides is finding some way for this strained situation to be resolved.  Besides risking several political objects that are certainly within reach, this feud is simply embarrassing for all of the new folks who have been energized during the caucus and have made the time consuming decision to get involved.  At this rate the attendance of these meetings will swell only on the grounds of voyeurism, as people will start coming to view a live version of the Jerry Springer Show.  Finding a way to make these meetings a little less bland would be a more than worthy endeavor, however, this is not exactly what I had in mind.
Looking Forward
I will be in attendance at the next meeting, if it is plagued by these same issues than the report you read here following it will be of a far different tone.  At that point critical mass will have unquestionably been reached and a movement to action will have to be initiated.  With so much crucial work to be done in the coming months, continuing in this manner is simply not an option.