Filed Under: Featured Local

Print This Post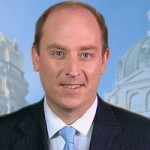 Republican Party of Iowa Chairman Matt Strawn has just stepped down from his position as leader of the party.
Over the last several weeks there have been public calls for him to step aside following the handling of the razor-close Iowa Caucus results earlier this year. Though the voices calling for his resignation were relatively few, they were also very loud.  Along with the public calls for action, high ranking Central Committee members were very disappointed with the handling of the Caucus results, and were internally seeking changes at the top.
Below is the official press release sent out by former-Chairman Strawn, a link to his video statement, and the press release issued by Gov. Branstad.
Official Strawn Press Release
January 31, 2012

Dear Iowa Republican:

In December 2008, when I campaigned to serve as your Chairman, my top goal was to make the Iowa GOP a relevant force again in Iowa politics by ushering in an era where the Republican Party returned to winning elections without betraying our conservative principles.

Over the past three plus years, we succeeded beyond our wildest dreams. We witnessed sweeping Republican electoral victories at all levels. We saw an explosion in new Republican voters with an unprecedented 34 consecutive months of Iowa GOP voter registration gains. We kept the Iowa Caucuses First-in-the-Nation. We broke fundraising records, hosted the largest Republican presidential caucus in history, and for the first-time ever, the Iowa GOP co-hosted three nationally televised presidential debates that were watched by millions. Most importantly, Iowa Republicans accomplished all this and more working together as a team.

Simply put, your Iowa GOP is better off than it was four years ago thanks to outstanding team work. Your Iowa GOP is a relevant force again in Iowa politics. Your Iowa GOP is winning elections with leaders who are advancing our principled agenda. Your Iowa GOP is in a position to re-elect our members of Congress, win an Iowa Senate majority, and make Iowa's six electoral votes the national battleground in the 2012 presidential campaign.

While the election wins, fundraising successes and media appearances are the aspects of being Chairman that gain the most attention, the most rewarding aspect of my service was the opportunity to travel our state and get to know the people of Iowa. The strength of the rebuilt Iowa GOP rests in the hands of the thousands of committed volunteer activists who give their time, treasure and talents to make Iowa a better place by working to elect public servants who share our values and principles.

The Iowa GOP designs its position of Chairman to be volunteer in nature. But over the past three years I have treated the privilege of serving as your Chairman as a full-time calling. There's no question the job of rebuilding our party was a huge one, and one to which I committed every minute that was necessary to succeed.

It is only because the Iowa GOP has returned as a strong and relevant voice in Iowa politics that I am now able to evaluate all the competing priorities in my personal, business and political life. The party is strong and has the resources in place for victory in November. Now is the time to transition to new leadership.

Effective February 10, I will be ending my service as your Chairman. For this fifth generation Iowan and Benton County farm kid, serving as your Chairman has been an honor, a privilege and the opportunity of a lifetime.

To victory,

Matthew N. Strawn
     **Click for Strawn video**
     **Gov. Branstad press release thanking Matt Strawn**
About the Author
Mr. Arnold is a long time constitutional conservative. He holds a Bachelor of Arts Degree in English Literature from the University of Iowa. Over the last few years he has been involved in numerous political campaigns, most recently serving as campaign manager for an Iowa House candidate and serving as a city chair for Tom Latham. He is self-employed, running a small business in Ankeny, Iowa where he resides with his wife.
1 Comment(s)
Galloping Libertarian | Feb 2, 2012 at 11:15 am | Reply

Matt Strawn and others should be indicted for fixing the vote in Iowa. Instead they will advance and be given rewards for what they have done.
Shame on you Iowa and shame on you media for participating in this without doing what a true free press should do which is to be a safeguard and expose this kind of corruption.

Iowa vote fraud official
http://www.examiner.com/conspiracy-in-denver/iowa-vote-fraud-official
(lots of links to tie everything together)

Cockeyed Hawkeyes? Romney wins in Paul-friendly "super caucus" Tuesday night
http://www.reddirtreport.com/Story.aspx/20926

Ron Paul Robbed-Cesspool of Fraud Iowa Caucus
http://www.youtube.com/watch?v=M7Cp6OYC9b8

Republican Strategist(Dee Dee Benkie) : Iowa GOP Will Not Allow Ron Paul To Win
http://www.youtube.com/watch?v=RQXVB9buAmc

CNN News
Iowa Caucus Vote Counter (Edward True) Speaks Out on Error
(and mentions watchthevote2012 on facebook where he is a member)
http://www.youtube.com/watch?v=fC1F-T2MrDg

Which led to Edward True blowing Iowa wide open.
Watch The Vote 2012 Works !!! Freedom in Action. How Edward True and WatchTheVote2012 shocked the GOP's world
http://www.youtube.com/watch?v=31qgr90-sOQ

Could We See a Hostile Takeover of our Elections to Stop the Vote Fraud?
http://lonestarwatchdog.blogspot.com/2012/01/could-see-hostile-takeover-of-our.html

The Battle of Athens Was About Election Fraud and a Police State.
http://lonestarwatchdog.blogspot.com/2012/01/battle-of-athens-was-about-election.html

Electronic Black Box Voting 1
http://www.youtube.com/watch?v=tKkNR3JisGQ

Electronic Black Box Voting 2
http://www.youtube.com/watch?v=7ZUaDBDrZlg

Google search "Ron Paul Voting Fraud"
http://bit.ly/y8qz1t
Sorry, comments for this entry are closed at this time.