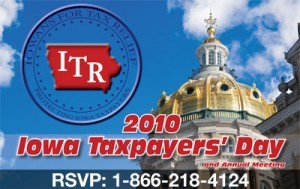 I'll be tweeting from the Iowan's For Tax Relief (ITR) "2010 Iowa Taxpayers' Day" event at the Northwest Holiday Inn in Des Moines.  All of the candidates for Governor (except for Governor Culver) will be grilled here today, and we've already got a number of press and bloggers present.
Even Steve Deace is here, standing 3 feet away explaining that he tries to get to these kind of events ONCE in a while so people don't think he's just a disembodied voice like the namesake of "Charlie's Angels".
Just had a nice chat with Dawn Pettengill (Republican State Representative from District 39, Benton County), who in 2007 switched from Democrat to Republican.  I asked her how it's been being a Republican, and she said that she's found that being a Republican aligns so much more closely to her positions and that of her constituents.  I also asked her if she has been pressed to vote against her own position, and she said she has never been asked to vote a certain way.  It seems like being a Republican, at least in the Iowa House, is a team effort.  I've heard from other Republicans there that the past few sessions the Republican caucus has really been very strongly aligned on most issues.
Other people here include Linda Upmeyer, Kraig Paulsen, Craig Robinson, O. Kay Henderson, Kevin Hall, Tim Albrecht, Erik Helland, and a full room and many others I haven't identified yet.
The event is getting started.  More on Twitter.