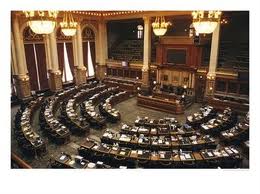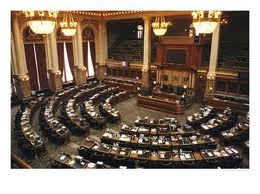 Question: What has happened so far at the Statehouse this session?
Answer: Mostly a whole lot of nothing.
With potentially as little as three weeks left before they gavel out this has been one of the most uneventful sessions since I began following them closely.  There could still be some fireworks in store as the larger ticket items get discussed, but as it stands now nearly everything Governor Branstad has signed into law has been with near unanimous consent from both Parties.  In fact, of the 36 bills he has signed so far most have been technical or clerical items passed with no dissent—and all but a couple have had no more than 3 no votes between the two chambers (notable exceptions being SF 184 and HF 160).
Conservatives Left with Little to Cheer About
The fact that divided government is not producing sweeping changes is hardly surprising, but getting no movement whatsoever on traditionally non-entrenched ideological issues is disheartening.  For me personally these disappointments include the first funnel costing any chance of banning Automated Traffic Enforcement and the second funnel claiming the Voter ID bill.  Both these issues have a clear majority of public support (Voter ID routinely gets well over 70% in public polls), and despite this couldn't even receive the dignity of a vote.
Additionally, the Education Reform effort (yes, even the version the Republican House passed with no inter-Party dissent) is a "solution" few true Conservatives can embrace.  Firstly, it is dumping $200 million more dollars into a system that already has received a 35.4% funding increase since 2002—with no discernible benefit in most districts.  And secondly, the kind of actionable teacher evaluation, similar to what exists in the private sector, is nowhere to be found.  Instead, in my view, what this reform offers is a largely a bunch of feel good jargon about "ladders", "career pathways", "mentors", and "master teachers"—now does that sound like a recipe for fixing a failing school?
In some way this issue has been absurdly overcomplicated, how about teachers just teach kids the information in their textbooks like miraculously you were able to do in the 1990's and we'll call it even.  In fact, prove you can do so and we will give you a nice raise…you know the way it has worked for all the rest of us in the private sector since our birth.
While it is true that many strong home schooling amendments got passed by the House, A) the big ones won't make it to the Governor's desk, and B) even if they did it still wouldn't make this effort worthwhile.  And while there are a few bright spots (HF 625 which expands STO's), there was no movement of Sen. Zaun's proposal last session to give parents true schools choice, nor was there any effort made to ensure we have strict 3rd grade retention for reading proficiency.
Tax Reform the Big Prize…But Likely to Elude Again
Just like last session, there was talk by both sides at the beginning that something needed to get done here, but the writing is on the wall that it won't.
Largely this is because the players and the policies they are pushing for are essentially unchanged from last year.  Additionally I am starting to think that Sen. Gronstal knows he controls only one branch—but perhaps has the trump card in this standoff.
The way I have started to look at this is to see the similarities between this situation and the fiscal cliff scenario faced by Republicans on the Federal level at the end of last year.  If you recall, Republicans were forced into caving because the specific position they were in—if no deal was struck taxes on everyone in the country would go up on January 1st.  Similarly, here in Iowa if nothing gets done our tax rates will continue to climb—a reality that would surely bother Republicans more than Democrats.  Not only does this give Gronstal more leverage in cutting a deal to avoid the tax hikes, if he can manage to stave off a deal until rates are raised he is in the position of deciding then who "deserves" tax cuts.  As frustrating as this tactic is for Republicans, as long as high taxes don't cost Democrats their majority it is truly brilliant politics.
The Truth As I see It 
I would love to be able to say everything is looking up here in Iowa and nationwide, but the evidence disagrees.  Coming off a brutal performance last November when Mitt Romney was unable to defeat a president with a terrible record and Republicans failed to take the Iowa Senate, we are now seeing the results.  This legislative session is almost a mirror copy of the last and the chances of anything passing at all are slim–and unfortunately the chances of passing any significant Conservative policy is hopeless.  Simply put, at the moment the landscape is virtually barren when it comes to potential political victories.
Elections indeed have consequences–and Conservatives are feeling them now.  We must do better as a Party going forward–2014 awaits and brings another chance to make a profound and positive legislative impact.