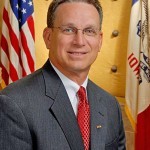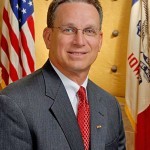 (For a complete overview by TCR:Iowa of the Iowa Senate races click here)
The Candidates
Jerry Behn (R)  vs.  Shelly Stotts (D)
Jerry Behn is the incumbent and was elected to the Senate in 1995 after serving one year as Boone County Supervisor.  He was then elected Senate Minority leader on November 10th, 2011.  Shelly Stotts has been a teacher in Boone for the last 28 years, has her Masters Degree in Education, and is a past president of the Boone Educators Association.
The District
Senate District 24 sits due North of Dallas County.  It's new configuration after redistricting shaves off Dallas County and replaces it with the Southeastern portion of Webster County and the Northwestern corner of Story County.  These slivers join all of Hamilton, Greene, and Boone Counties to construct SD 24.  The registered voter numbers here are less favorable to Jerry Behn than his old district was, though he still holds an advantage of R+1,379.  The rest of the numbers are: (R-13,465) (D-12,086) (NP-14,553), with the district total being 40,132.
The Race
Much like Senate District 38, this goes in the leaner column by just a hair and should be a victory for Behn.  In addition to campaigning hard, Jerry Behn has been one of the point men rolling out the Republican legislative agenda titled "Iowa Strong"—which is a fairly specific, multi-issue priorities list for the upcoming session.
Despite being a well-liked legislator, a fantastic spokesman for the Republican Party, and a likely victor in his November re-election bid—Behn has come under fire this year from fellow Republicans for not raising the kind of funds necessary for a Republican takeover of the Senate.  There is really no way to say the criticism is unjustified, as part of his job as minority leader is building a war chest that can be distributed to other Republican candidates throughout the state.  As of the last filing period he was outraised by his counterpart, Democratic Majority Leader Mike Gronstal, by more than $416,000.
Democrat Shelly Stotts is attempting to transition from a long career in teaching to Senator by taking down the highest ranking Republican in the Senate.  Though the registration advantage is surely able to be overcome, Mrs. Stotts will have a hard time doing so for two major reasons.  First, though Behn's cash on hand is low for a Minority Leader, he still has $83,383 in the bank to Stotts' $1,528.  Secondly, she has identified her political views on her own Facebook page as "liberal".  Though laudable for her honesty—this self-description combined with her money disadvantage is not a recipe for an upset.
Frankly, I am surprised that more Democrats have not stepped up to the plate with donations.  You would expect this to be the case being that the newly drawn district left a Republican Senate Minority Leader with such a small voter registration advantage.  Put simply it would be a shock not to see Jerry Behn back in the Senate in 2013—and the possibility of him being at the helm of a newly minted Republican majority is certainly within reach.
Further Information
Jerry Behn – Candidate Profile
Shelly Stotts – Facebook Page
(Complete TCR: Iowa overview of the races crucial to Republicans winning a majority in the Iowa Senate)