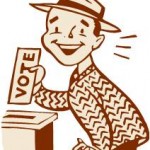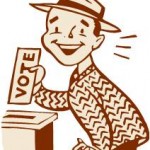 Tuesday December 1 is runoff day for cities around Iowa, including Des Moines, Windsor Heights and West Des Moines Ward 1. Â Polls open at 7:00 AM and close at 8:00 PM.
It should be pretty simple. Â All of Des Moines has to vote today. Â Period. Â If you live in Ward 1 of Des Moines, you are voting for an At Large (Leisha Barcus v Skip Moore) PLUS the hotly contested race of Tom Vlassis v Halley Griess. Â Those of you in the other wards in Des Moines are just voting for the At Large seat.
Also, all of Windsor Heights is voting to fill two At Large seats… your ballot will indicate "Vote for only two" with the following choices provided: Betty Glover v  Flo Hunter v Carole Tillotson, v David Jenison.
Folks in West Des Moines have to think a little bit harder… only Ward 1 voters will be voting in West Des Moines, with the choices being Robert Parks v Kevin Trevilliyan. Â If you don't know whether you live in Ward 1 or not, look at this link (Adobe Reader required).
All of your ballots and polling places can be found at this link.
I hope you don't get tired of me saying… get out there and vote!!!