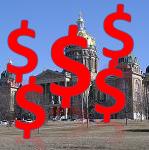 Iowa House Republicans Continue With Budget Savings
House Republicans offered another $52.9 million in cost-saving measures to the education budget bill brought up in the House today.
"From day one, House Republicans promised to dive into budgets and find savings.  Today we delivered on that promise for Iowans," said House Republican Leader Kraig Paulsen (R-Hiawatha).  "Instead of funding more bureaucracy, Republicans believe we need to fund students and classrooms."
To date, House Republicans have offered more than $200 million in cost-saving measures to budget bills.  Of these, House Democrats have accepted less than $2 million.
Below is a list of amendments, a brief description and the amount of savings that were offered by House Republicans to Senate File 470, the education budget bill.
H-1553 by Raecker – Regents Library Acquisitions   Page 12, line 17: For one year the Regents universities are required to spend 50% less on library acquisitions.  Savings:  $12 million

H-1546 by VanEngelenhoven -  Executive Council approves out-of-state travel.  Savings:  $1 million

H-1547 by May  – 20% reduction in printing, binding; 50% reduction in advertising.  Savings:  $3.5 million

H-1552 by Dolecheck  – Eliminates all funded, unfilled FTE positions that have been open for 6 months.  Savings:  $700,000

H-1554 by Raecker – 50% reduction for all office supplies, service contracts, equipment purchases.  Savings:  $23 million

H-1555 by Tymeson – Prohibits expenditures for cell phones and PDAs for state employees.  Savings:  $500,000

H-1556 by Rants – Fleet  purchases deferred.  Savings:  $11 million

H-1557 by Koester   – State employees must provide meal receipts instead of claiming maximum.  Agency may require electronic submission of receipts.  Savings:  $500,000

H-1566 by Tymeson – Identical to Wendt amendment which strikes repeal of MHEC.  Savings:  $450,000

H-1572  by Kaufmann and Struyk  –Limit on Regents  Sabbaticals.  Savings:  $250,000
It amazes me that House Democrats are so obstinate and out of control that they would intentionally work at weaseling their way to spending as much as they possibly can.  The good news is, the public should be able to see plainly just how greedy and careless these folks are spending the public's money… this should be MORE than adequate reason to plan on a major voter revolt in 2010.  I'd prefer to see the foolishness end now, but it seems more likely that Democrats would prefer to thoroughly thumb their nose in the face of Iowans instead of doing what is right and what they KNOW Iowans want.
~ ~ ~ ~ ~
Don't forget the Tea Party on Wednesday… 11:00 at the West Lawn of the Iowa State Capitol.   Let your voice be heard!!!