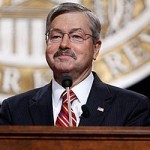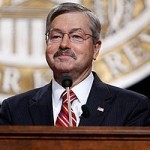 After failing to reach a compromise on tax reform for the second consecutive session, today the Iowa Legislature adjourned until next year.  In the end the Governor-backed House proposal on property tax reform failed to even see a vote in the Senate, as Senator Gronstal refused to bring it to the floor.
We will have analysis on this in the coming days, but my gut tells me that privately many Republicans, especially those in the 2010 crew, are more than willing to gamble on a majority in the Iowa Senate after November.  This is not to say that they did not want to put something on the books this session, but there are multiple reasons why this conclusion was advantageous.
First, considering the alternative, the optics couldn't of turned out much better.  Some in the Republican caucus had even publicly hinted that not getting a deal may be the best deal, and if they had pushed walking away from the session a week ago it could have easily been pinned on them.  Instead the way it ended, with the Senate majority leader failing to bring up the already passed House bill, Democrats were left holding the bag–and the blame.  Making matters worse for Gronstal and company is the fact that they lost two Democrats in the final vote on the Senate version, which means their own plan did not even pass the Democrat controlled Senate.  With the House passing a tax reform plan that the Senate chose not only to ignore, but to ignore in favor of holding a losing vote on their own plan, there is almost no way for this to be spun as a Republican inspired log-jam.
Second, from a strictly long-term strategic viewpoint, Republicans waiting till after November is also a win-win.  The reason for this is simple.  There is no policy downside in waiting till next session because, even if Republicans fail to take the majority in the Senate, there is absolutely no way the Democrats will put a smaller tax reduction plan on the table next session.  They have already staked out their ground politically on this issue and they can only agree to either the same level of cuts or more cuts than they proposed this session.  Can you imagine what would happen if they came back next session and put an offer on the table of less tax relief?…point made.  The upside for Republicans however is potentially huge–a majority, in which case they would get what they had on the table this session, and probably then some.
There is certainly more to come on the session wrap in the near future, including Republican reaction, but for the time being below is the full text of Governor Branstad's official statement on the end of the 2012 session.
************************************************************************************************************
In January, the lieutenant governor and I brought forward a bold agenda focused on the dual goals of job creation and transformational education reform.  I want to thank the General Assembly for considering our priorities and for adopting a significant number of them to help move our state forward. [See list below.]

Legislation passed by this General Assembly will provide our Iowa Economic Development Authority with additional tools to help meet our administration's ambitious goal to create 200,000 new jobs.  We have made significant progress on that goal during this first year and a half and the High Quality Jobs Incentive Fund and Employee Stock Option Plan legislation will help accelerate those efforts.

I am also pleased that this General Assembly took a first important step toward our goal of transformational education reform.  While these initial steps may be considered by some as small, our new early childhood literacy initiative, in particular, will have lasting effects on the lives of thousands of Iowa children and significantly improve their chances of future academic and career success.  We also enhance teacher accountability by requiring annual reviews.

However, the 2012 session may be remembered as much for what failed to be accomplished as for what actually was accomplished.  Despite the best efforts of my office and a bipartisan majority in the Iowa House, the inability of Senate Democrats to adopt serious property tax reform has put Iowa taxpayers in jeopardy of seeing significant property tax increases in the coming year.

The Senate failed to support legislation based on the framework I believe was agreed to as a roadmap to finding a compromise between my office, the House, and the Senate.  They failed to pass a meaningful step forward in our goal to make Iowa's tax system more competitive or assist with our critically needed job creation goals.

As a result, Iowa taxpayers face yet another year with property taxes that are scheduled to grow nearly $2 billion over the next eight years.  This is absolutely unacceptable and Iowa voters will have an opportunity to resolve this impasse in November.

Lt. Governor Reynolds and I are proud to work with all members of the Iowa General Assembly and proud to serve our citizens each and every day.   We will continue over the next seven and a half months of 2012 to travel the state, promote our ambitious agenda, and work aggressively toward the achievement of our four goals:

1.      200,000 new jobs for Iowans;

2.      25% increase in personal incomes;

3.      Reduce the cost of government by 15%; and

4.      Provide our children with the nation's finest education.