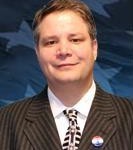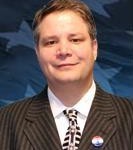 I have previously listened to Dr. Pat Bertroche speak on several occasions, including the day I went all the way to Sigourney to participate in Leonard Boswell's "Town Meeting" (that's French for "Stuffed with Union members") only to be turned away.  At least Bertroche had time for me that day, along with a handful of others who talked with him for a couple of hours at the Pizza Ranch in Sigourney.
Although Pat had already publicly stated his intention to run for 3rd District US House, he put out a press release this past week (which I've provided below).  In addition to the information provided by his campaign, it's worth noting that he is now hosting an internet radio show on Friday afternoons called "The Reasonable Republican" on Des Moines Local Live (where I also happen to host The Conservative Reader Report on Tuesdays).  Pat joins Jim Gibbons, Dave Funk and Brad Zaun in what will likely be a very competitive primary race.  I have had Dave Funk as a guest on my show, and plan to have the other three as well in the near future.
Dr. Patrick Bertroche is announcing he intends to defeat Rep. Boswell Next November.  Dr. Bertroche has spent the last 9 years serving the medical needs of central Iowans, and will bring a potent insight and deep understanding to the race for Iowa's 3rd Congressional District. 

He is a local boy, born in Des Moines and raised in Indianola.  He graduated from Indianola High School, and the Graduated from Drake University with a BA in Political Science.  He then went to The University of Osteopathic Medicine and Health Sciences, now Des Moines University, and graduated in 1995. After completing his residency, he returned to the Des Moines area, and started his private practice in Clive.  He has been serving the needs of central Iowans since 2000.

Dr. Bertroche has a son, Pat, who is in the Marine reserves, and is stationed in Des Moines.  He will be returning to college next year, and intends to complete his business degree.  It is his son who challenged Dr. Bertroche to pursue this candidacy, by asking Dr. Bertroche, "In 20 years, what are you going to say you did to save our country?"  It was then he decided to run for Iowa's 3rd District seat.

Dr. Bertroche has shown determination and drive in all he has accomplished.  He has traveled extensively around the world, starting with his first international trip when he was 12 to Ireland with the Friendship Force.  From his international experiences, he has gained an insight into other world cultures that is lacking in today's US Government.  He would bring this expertise to Washington, and would help re-establish America as a respected global leader.

He is an Associate Clinical Professor of Psychiatry at Des Moines University.  As a Professor, he is playing a role in educating future physicians.  As a mentor, he has influenced hundreds of students, some of them now physicians, and has provided a positive and rewarding learning experience. 

Like most rural boys, his first job was on a farm.  It didn't take him long to learn the valuable lessons of hard work, integrity, and prayer.  With this knowledge and experience, at 16 he tried his hand at business, and has been creating jobs for central Iowans since.  He understand the struggles of small business, and knows that small businesses are really good people pursuing their American Dream.  As a small businessman, he understands that struggle, and will work hard for Iowa's small businesses.  He knows small businesses create jobs that Iowans need.

From his work as a physician, Dr. Bertroche also understands the struggles of hard working folks who are overburdened with taxes on everything they earn, and everything they own.  He understands that families today need to have two incomes, not by choice, but because of the amount of taxation that occurs that strip them of the ability to provide a good life for their children with a single income.  Dr. Bertroche thinks it is wrong for families to be forced into placing their children in daycare instead being able to stay home because of a punishing tax system that benefits Washington greed and power mongering.

Dr. Bertroche has received much encouragement to pursue Iowa's 3rdCongressional District seat.  He has the support of many small businesses, and physicians.  He has put together a team of great volunteers that has helped get his message out to potential voters.  Most importantly, Joe Grandanette has joined his campaign as Campaign Chairman, and brings many years of experience to running a campaign.  Also, Susan LaSala has joined the campaign as Volunteer Co-Coordinator, and brings years of experience in organizing.  Jeff Green has agreed to be the Webmaster, and Jeff brings years of design and IT experience.

With great people like these behind Dr. Bertroche, he is confident that he can win the nomination and defeat Rep. Boswell next November.  For more information, you can check out his website, www.bertroche4congress.com, you can call the campaign headquarters at 515-556-0526, or Campaign Chairman Joe Grandanette at 515-710-0798.

You can also follow him on Twitter at PatBertroche, and on Facebook, Pat Bertroche.