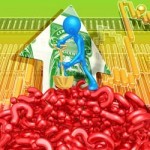 It was a steamy 98 degrees in Atlanta. It was clearly too hot for me to be out running at the local high school track…but there I was. I was not alone, however. Occupying Lane 4 was a guy who I would guess was born somewhere immediately after WWII. But my track-mates age was not the interesting part of the story. The interesting fact was that the man was clad in a long-sleeved sweatshirt. Yes, and it even had a Nike SWOOSH on it. I thought to sweaty self, "This has to be the most bizarre thing I have seen all week!" However, upon a few moments of reflection, I concluded it wasn't even close to the top of the Week's-Most-Bizarre List.
My first cataloguing thought was that the Massachusetts tornado was the most bizarre thing that happened this week; but I concluded it only scored 8.0 on the 10 point scale. After all, the weather has been crazy this year. Then it occurred to me that "Weinergate" was about as weird as it gets. And it did involve the Honorable US Representative Anthony Weiner from New York…making it a natural candidate, by definition.  Many of us would have been more comforted by simply hearing him say "That is not mine." as opposed to "It was pranksters." But even allowing for a couple of additional Anthony Wiener style points, he only merited 9.0 on the Bizarre Scale.
I then gave passing consideration to Barack Obama's honoring of our fallen war heroes with an "18 flag tribute" at the local golf club on Memorial Day. And that might have been a winner had the event in any way stuck out from his normal complete lack of respect for people who actually believe in what America stands for. While scoring an impressive 9.5, the President's behavior still fell short of this week's winner.
The winner for the most bizarre thing that happened this week, with a score of 9.7, was Clinton's former Secretary of Labor, Professor Robert Reich, from (of all bizarre places) Cal Berkeley.
In an article in (of all bizarre places) the San Francisco Chronicle, he is quoted:
In response to slow economic growth: "Right now we need more public spending in order to get people back to work. And we need a new Works Progress Administration to get the long-term unemployed back to work."
In response to declining home prices: "That means most Americans have to save big-time if they're going to be able to retire or even send the kids to college. As a result, consumer spending will stay anemic and unemployment will remain high – unless Washington fills the gap."
And he teaches our children this stuff…
So if the federal government is currently spending $1.5 trillion more than it receives (an annual deficit representing nearly ten percent of the entire economy), that is not enough government stimuli? What amount might be enough, Mr. Reich? (In the good professor's defense, he does likely make the highly nuanced distinction between normal unproductive and wasteful federal government spending and targeted unproductive and wasteful federal government spending.)
And what gap is it that Washington needs to fill? I guess this assumes that irrespective of how poorly the economy is managed, and unrelated to how little money consumers have to spend, that the government can just step in and "create an economy." Does he really not understand the notion of rational investment and the resultant productivity increases that singularly drive economic growth? Is his whole world just one very large social and political abstraction for Mr. Reich? Whatever it is, it is truly bizarre.
Apparently, this is the thinking of people like Mr. Reich: If something isn't working, has never worked, and will very likely never work, and yet you believe in it very strongly…just do more of it. If you do not find yourself tortured enough by running outdoors in temperatures of nearly 100 degrees, slap on a sweatshirt! The underlying logic embedded in both of these scenarios is both beautifully and brutally consistent.
For his remarkable jeremiad, Professor Reich is credited with a score of 9.7, and is the winner of the "Most Bizarre Thing of the Week" Award. Well done, and congratulations, Bob!