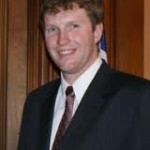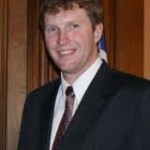 ((For a look at all the critical races–Click for TCR:Iowa's complete Iowa Senate overview))
The Candidates
Andrew Naeve (R)  vs.  Rita Hart (D)
Andrew Naeve, who returned to Iowa after playing basketball at Cornell College, is already a political veteran at the age of 27—two years ago he ran for the former incarnation of this seat and only lost by 70 votes after a recount.  Rita Hart is a long-time educator and member of the Clinton County Planning and Zoning Commission.
The District
Sitting on the Eastern-most edge of Iowa, Senate District 49 is composed of all of Clinton County and the Northern portion of Scott County.  Democrats hold the registered voter advantage by 3,721.  The breakdown is: (D-14,620) ( R-10,899) (NP-18,769).
The Race
This race pits two good candidates against each other for the right to represent the district for the next two years, after which this seat will go back on the ballot in 2014 for a full four year term.
In a recent commercial Hart is seen playing up her farming background, bi-partisanship ("good ideas come from both sides of the isle"), and auditing the state budget every year.  Meanwhile Naeve has been placing his focus on creating jobs through business expansion, tax relief for all Iowans, and improving education.
The money situation here is very telling.  Naeve has clearly proven beyond formidable by raising just under $94,000 on his own, and having the GOP kick in another $20,000.  As for Hart, she struggled to compete in this area and brought in only $48,000.  Fortunately for her however the Democrat Party stepped up big on her behalf.  Likely realizing that Naeve was a great campaigner with a real shot to make up the 2,891 registration advantage she had, the Senate Majority Fund intervened heavily by tossing in a whopping $187,000.
All things being equal, especially with the 2:1 money advantage, the Democrats probably like their chances here.  That being said, Naeve has proven he can move the needle by taking on a popular Democrat two years ago and falling just short–and mind you he was only 25 at the time.
It says a lot that the Democrat Party felt they had to spend nearly $200,000 in a race where they have a relatively sizable registration advantage.  My sense is that this one is going to be close on election night.
Further Info
Andrew Naeve —  NaeveForIowaSenate.com
Rita Hart –  RitaHart.org