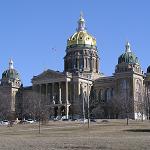 So, the leadership of the Iowa General Assembly are again hoping to end the session this week.  From their standpoint, I think they hope to finish up the budget, pass the repeal of Federal Deductibility, and avoid any more discussion about a Marriage Amendment to the Iowa Constitution.
It might be a bit of a challenge.
The next three days, various groups will be descending on the Iowa Statehouse, and you can join them.
Monday, 11:00 AM to 1:00 PM: Protest of the Supreme Court Decision regarding Gay Marriage:
West side of the Iowa Capitol Building, Des Moines
Please dress warm.  In case of rain, go inside the Capitol.
Participating Organizations:
Everyday America
Iowa Christian Alliance – Norm Pawlewski
Concerned Women of America – Tamara Scott
Iowa Eagle Forum
Iowa Family Policy Center
Network of Iowa Christian Home Educators
and many more to be announced Monday.
Tuesday, 10:00 AM: Protest of the planned Repeal of Federal Deductibility ("Tax on a Tax")
From Iowans for Tax Releif:
We need you to come to the Iowa Capitol on Tuesday, April 14, 2009 at 10:00am to make your voice heard.  The Legislature will be in session all day and we need taxpayers to show up and say "No Tax on a Tax".

If you still have your red shirt and "No Tax on a Tax" buttons, please bring them along and wear them proudly.

The bill to repeal federal deductibility and forces you to pay a tax on a tax, has a new amendment.  House Democrat leaders filed the amendment on Wednesday in effort to improve House File 807, but is still bad for taxpayers.

Governor Culver called the plan a $54 million tax cut.  His description is clearly imaginative.  The numbers provided by the Iowa Department of Revenue tell a different story.

The truth is:

2009Â Â Â Â Â Â Â  $20.198 million tax cut
2010Â Â Â Â Â Â Â  $34.898 million tax cut
2011Â Â Â Â Â Â Â  $154.148 million tax INCREASE
2012Â Â Â Â Â Â Â  $157.104 million tax INCREASE
2013Â Â Â Â Â Â Â  $149.01 million tax INCREASE
NET RESULTÂ Â  $405.166 million TAX INCREASE for Iowans over the next five years.

This new plan and the majority party's explanation is similar to the story of a schoolyard bully.  What Iowa kid would be happy with the following occurring?

The bully tells a kid, "look I'm not going to steal your lunch money on Monday.  In fact, I'm going to give you a $20 bill.  On Tuesday, I'm going to give you $34.  See how nice I am, I just gave you $54."

The bully continues, "but, you better have $154 for me Wednesday, and every day from then on."

Ed Failor, Jr., President of Iowans for Tax Relief commented, "Iowa taxpayers are tired of being bullied into paying more and more taxes.  The net result of this bill over the next five years is more than a $400 million tax increase on Iowans.  How on earth is that a tax cut?"

To make matters worse, in 2011 just over 149,000 Iowa taxpayers who earn $40,000 per year, or less, will see an increase in their Iowa income tax burden.  Is that really the Democrat definition of a middle class tax cut?" Failor concluded.

We can win this fight, but we need your help.

So we need action from you, your family, your neighbors, and friends.  If you can not join us at the Capitol, then please continue your phone calls, faxes, and emails.

Please contact Governor Culver at his office:

Please contact your Legislators at the Capitol:

Thank you for all of your support and we look forward to seeing you on Tuesday, April 14, 2009 at 10:00am!
Wednesday, 11:00 to 2:00 PM: Des Moines Tea Party at Iowa State Capitol West Lawn to Protest State and Federal Spending and Taxation
From the Des Moines Tea Party web site:
Bring folding chair if you need seating
Wear comfortable clothes
Bring your own signs (no sticks or poles)
Bring your camera!
Parking (see info in sidebar at right)
Be prepared to have fun – it is going to be a hoot!
~ ~ ~ ~ ~
With all of this distraction, it will be a wonder if the Legislature gets anything done.   Personally, I hope they do get done… at least save us SOME money!