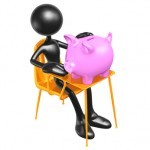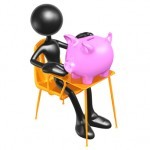 For the past few years, I have been watching my weight carefully.  I value the life I have been given, and I want to take good care of myself through proper sleep, diet, and exercise.  In March, my mother-in-law died, and it only took a couple weeks of constant grazing through the meals of generous friends and families to result in a weight bulge.  I could feel the extra weight at my waistline.  Try as I might, sucking in my stomach didn't make the problem go away.  A similar lack of discipline with spending has put Iowa and other states in financial messes.
The Iowa Legislature annually engages the state's school funding formula to provide "allowable growth" to public school districts.  Because of the state's challenging financial situation, the Republican Governor and Republican-controlled House have been attempting to hold the line with a proposed 0% allowable growth against the Democrat-controlled Senate.  Impasse occurred.  Public school superintendents lobbied hard for a 2% increase.  Typical partisan politics have thus far prevented a final budget deal, and the Legislature is several weeks past their anticipated adjournment as a result.
I have an interesting perspective on this issue of educational spending, because I spent the first 20 years of my career as a teacher, coach, associate principal, and principal in several public schools of Iowa.  For the past 11 years, I have served as the superintendent of a non-public school.
I am embarrassed to admit some of the spending habits in practice during the first phase of my educational career.  We didn't do anything illegal.  And there were no $500 hammers.  But, as I look back on those days, we could have been MUCH more effective stewards with the monies entrusted to us by Iowa's taxpayers.
As we were closing out the books on fiscal years, we were sometimes left scrambling to figure out how to spend balances of General Fund accounts which could not be carried over to the next fiscal year.  Budget makers too often padded accounts from year-to-year for "wants," not "needs."  Such was why I was always a strong advocate of zero-based budgeting, but I was seldom successful in implementing that practice in its purest form.
I vividly recall attending a meeting of government officials who were charged with explaining the process for submitting proposals to obtain Obama stimulus monies for Iowa's schools.  A surreal moment occurred when one of the policymakers actually said, "There is so much money, I don't know if you can figure out how to spend it all by the deadline."  I shook my head in disbelief at that time.  Did he really say that? I thought.  He did.  No question.
My perspective on educational spending changed dramatically when I entered the arena of non-public education.  Our schools survive mainly on the tuition dollars of our parents and guardians, with additional dollars raised through fund-raising.  Non-public school leaders take their fiduciary responsibilities very seriously, because we definitely need to give a strong return on the investment of parents and donors.  The business practices are much more conservative in non-public schools than in public schools.  Waste not, want not.
If I said aloud to my public school colleagues what I am about to write publicly, I would probably be met with fairly defensive responses, but I must say the "unpardonable."  Just as federal and state governments should be attempting to tighten their belts by eliminating duplicated programs and wasteful spending practices, so, too, should the state's schools carefully scrutinize all line items and expenditures.
Iowa's schools so often look at increased funding as THE answer to any problem.  But I contend that millions of dollars could be saved through concerted streamlining.  To whom much is given, much is expected.  Accountability is crucial.  ALL of the schools in Iowa – public and non-public – must do their parts to be excellent stewards with the financial resources entrusted to them.  Times are tough.  We've got to figure out ways to stretch our dollars.  Time to stick to the basics.  We've got to lose some of that fat which has come to too often characterize our budgets.  Discipline and dieting will put Iowa's schools in better shape.