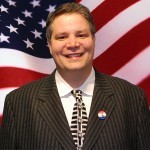 This Friday, Pat Bertroche, whom we have mentioned here before as a Republican candidate for 3rd District US House from Iowa, will make his formal announcement of candidacy.
Pat will make his announcement at the corner of East 14th Street and Euclid in Des Moines where Younkers once had a store.
I had the opportunity to speak with Pat in August while Leonard Boswell was running a farce of a town meeting in Sigourney. As with Dave Funk, Pat seems to share many of the same conservative passions that many of us do for both addressing our fiscal mess by reducing the size of government, and some of the key social issues that have been problematic, abortion being one of them.
Pat also hosts a show called "The Reasonable Republican" on the same Des Moines Local Live internet radio station that The Conservative Reader Report can be heard on. Pat's show is on Friday's from 2 to 4.
Here's Pat's press release:
Dr. Patrick Bertroche will formally announce his campaign for Iowa's 3rd Congressional District on Friday, December 18th, 2009, at 12pm. He has sent his FEC papers by Fed/Ex Tuesday, and the next logical step is to move forward and announce his intention to run for the 3rd District House seat.

He will announce his candidacy at E. 14th & Euclid Ave., near where the old Younkers store used to be, to illustrate the need for better infrastructure and job growth that Iowa needs for a better economy.

Dr. Pat is passionate about Iowa, and will bring a depth of knowledge and vast experience on all issues that affect Iowans, especially Medicare reimbursement and job creation for the 3rd District of Iowa. Dr. Pat plans to work closely with local and state officials to boost small business growth and job creation.

Dr. Pat LISTENS to Iowans.

For more information, you can check out his website, www.bertroche4congress.com, you can call the campaign headquarters at 515-556-0526, or his Campaign Chairman at 515-710-0798. Email: [email protected].

You can also follow him on Twitter at PatBertroche, and on Facebook, Pat Bertroche.