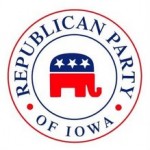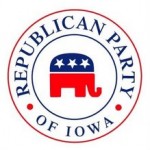 An update on our friends in the Republican Party of Iowa State Central Committee.  You may recall that we had addressed the issue of some members of the committee actively working on campaigns.  Wednesday evening the Central Committee met and considered the issue (after deferring it due to lack of time at their last regular meeting).
There was an extensive discussion on the topic, initiated by John Ortega, that generally included comments to effect that committee members had heard from numerous constituents in their districts expressing concern about committee member involvement on campaigns. Â Mr. Ortega read a rather severe message that he had received that pressed for removal or at least reprimand against the members who were being paid to work on campaigns.
A motion was made by Jeremiah Johnson and amended by David Chung, which read as follows:
Those State Central Committee members with paid staff or consultant positions on campaigns in contested primaries or caucuses are required to disclose those relationships to the State Central Committee.
The motion was passed 10-4 with one abstention.
Although it does not go as far as I and other would like, it does establish a sense of accountability within the board membership, and clarifies that contested primaries and caucuses are specific areas of concern. Â I think that is an essential message for people to hear even if the overall affect of the measure more or less a non-event.
So, quick breakdown.
One of the "no" votes was cast by a committee member who has been concerned about this issue. Â That member voted against the measure simply because the measure did not go far enough.
The abstention was from Wes Enos. Â Wes mentioned during discussion of the topic that he saw this as a serious concern and that he plans, while serving on Michelle Bachmann's campaign, to abstain from any votes that impact the Caucus. Â I applaud Wes for taking a strong step in acknowledging the fact of the appearance of a conflict of interest, and acting in a way that helps mitigate the issue. Â That demonstrates responsibility and character.
The other three "no" votes came from the other three committee members who are working on a campaign. Â I find it odd that they would take a combative position on such a non-intrusive measure. Â Voting for the measure would have cost them nothing and would have given them a positive appearance. Â Instead, the message it sends is that they do not see themselves as accountable to the Committee, and the impression it leaves with me is sour… it increases the appearance that their participation on the committee is geared more to their own personal agenda than it is for the sake of the party as a whole. Â If that's true, it is very disappointing.
It is worth acknowledging that several members of the committee would have probably liked to see something more drastic occur.  An amendment to the  motion offered by Bill Schickel, to require that committee members abstain from operation votes, failed.  All of the members were very considerate of each other, emphasizing the issue as one of appearance and not an actual question of integrity, and in seeking a sensible solution worked to a compromise that probably accomplished as much as could be reasonably done at this juncture.
Specific constraints against the voting rights of the members would have likely been untenable. Â Such a measure, or anything more substantive, would probably need to be considered at the State Convention next year as a bylaw change. Â Based on follow up conversations with committee members, it is very likely that such a measure may be presented to the convention in some manner.