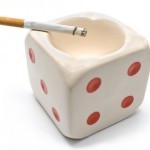 Back in 2001, Iowa decided to securitize its portion of the multi-state tobacco lawsuit settlement. "Securitize" means to borrow against it. They issued almost $700 million in bonds through the Iowa Tobacco Settlement Authority, with the settlement money itself as the asset backing the bonds. Most of them are even tax-exempt.
Such is the nature of public finance; the settlement was a windfall of revenue that didn't have to be taxed from the citizens, but instead of just riding the wave, the government used it as collateral to borrow money. Never put off spending that can be done today.
More than seventy percent of the money Iowa receives from the tobacco settlement goes to debt service on those bonds – these, like most government bonds, are coupon bonds, meaning that the accrued interest is paid periodically, usually every six months. The remainder goes to health-related things such as smoking cessation, but the bonds themselves financed "various capital projects." I'm not sure what that entails, so far I haven't found any list of specific projects.
If the tobacco industry finally succumbs to things like smoking cessation programs, those bonds will find themselves unsupported. Not to worry though – they are state-issued securities and failure to deliver will negatively impact Iowa's credit. Because of this, the legislature would almost certainly pick up the tab with taxpayer money.
So, smoke up – there are bonds to cover.
In the meantime, you can click here to track the sale of Iowa's Tobacco Settlement Authority Iowa Asset-Backed Series C bonds, my favorite resource for municipal bond information. Of course the fact that I have a favorite resource for such information suggests that I need a more fulfilling career, or perhaps a meaningful relationship.
Ash Trays and Slot Machines
Should you choose to smoke inside a casino, you will be supporting other types of bonds as well. The Iowa Events Center, for instance, was constructed with funds obtained from the sale of bonds that are supported with revenue from the casino at Prairie Meadows.
All of Iowa's casinos – how many are there now? – contribute revenue in some manner to state and local government coffers through various direct and indirect means, everything from taxes, licensing, and even leases for facilities, not to mention sales and fuel taxes from the nearby communities, although casinos run by indigenous peoples can be an excellent source of untaxed cigarettes.
Economic Placebo
Casinos have become the first, last, favorite, and perhaps only tool in the box of economic development officials, and cities across the state still want more of them.

There was a time when every person with the sniffles was given antibiotics, despite the fact that while antibiotics fight bacteria, they are useless against viral illnesses. Today, casinos are the alleged cure-all of choice: Factory closes down, build a casino; young people move away, build a casino; county supervisor dozes off during a meeting, build a casino.

Some jobs will be created, some taxes will be collected, and some concerts and shows will be held to keep people busy, but the underlying problems will remain unresolved. No goods or services are created in a casino, and no assets are being bolstered. Money is simply changing hands.

It is also hard to imagine large numbers of people coming to Iowa for the casinos. I'm sure some people do, but I would think that most of the patrons are from the areas near the casino itself, and thus the money is really just churned around the community, with government taking a healthy chunk after each rinse cycle.

Gambling has traditionally been treated as a vice, and one that was more often illegal than it was celebrated. This vice has now been legitimized as a source of revenue – the beast must have flesh to survive – and it is hard to imagine a serious push to reverse course, although there might be some resistance if the Iowa Finance Authority tries to open a cathouse.

Image © gavran333 – Fotolia.com