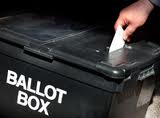 I have heard from three separate sources in recent days that former SCC member Drew Ivers is leaning toward a Senate primary run.  Many have speculated that an Iowa libertarian would enter the race at some point—and as the Iowa Chair of Ron Paul's 2012 presidential campaign Ivers certainly would fit this bill.
Whether this is true or not is unclear at the moment, but what is clear in my mind is the impact Ivers or any other legitimate Libertarian candidate would have on the race.
Besides the obvious—that the other candidate's ability to pitch to and draw in Libertarians would be greatly diminished—there are many other ways this would shape the contest.  Setting these aside for now, specifically from the Libertarian movement's perspective there are 3 possible outcomes…and even the least desirable one would be a heck of a consolation prize.  Here's a brief look at the three things that could result should an Iowa Libertarian enter the contest:
Winning Outright
Though extremely improbable, in a large field of slightly lesser known candidates and with a solid pre-built network of passionate supporters that actually go vote…anything is conceivably possible.  Iowa witnessed first-hand last cycle that Libertarian candidates can do well—this showed locally in Statehouse races and in the fact that Ron Paul finished a very close 3rd in the caucuses.
The hurdle in imagining a Liberty candidate winning outright—and why no one, including me, will ever predict it—is one of them would have to garner 35% of the statewide vote.  You hate to say anything is impossible, but envisioning this is bordering on it.  I will tell you this though, if someone was to make the argument, a semi-plausible case could be made with the numbers and by evoking the "Christopher Reed path" to victory—that is to say just nudging past your opponents while also rising above the 35% needed to avoid convention.
I'm prefacing this with the fact these situations aren't analogous to 2014, but the case on the numbers could be made as follows:  Two of the last major statewide Republican events in Iowa were the Iowa Caucuses and the U.S Senate primary that took place in 2008 for this same Senate seat.  In the 2008 Republican Senate Primary a 3-way race yielded a total of 70,672 votes.  Christopher Reed won with 24,964 votes and barley escaped a nominating convention by .32%–getting 35.32%.  The 2012 Caucus set a record with 121,501 Republicans voting—Ron Paul got 26,036 of them.  This means that Ron Paul received more votes in Iowa last year than the Republican Senate nominee in 2008 won by.  So hypothetically if turnout is low and hovers in this 70-75,000 range and everyone who voted for Ron Paul votes for the Liberty candidate—they would win.
Of course turnout is expected to be much higher since the seat is now an open seat—gee where have we heard that before?—but even still, as an exercise let's say the eventual turnout splits the difference between the 2012 Caucuses and 2008 primary and is 90,000.  35% of 90,000 is 31,500 votes to win, and again, if all the Ron Paul 2012 voters vote for one candidate in 2014, they would already have 26,036 of them…only 5,464 votes away from a small lead and a shade over 35%–meanwhile the others candidates split the vote (see 2008 Iowa Senate Primary).
Though most will reject this out of hand, you have to at least admit it's interesting and mathematically a case can be made for it.
Nominating Convention
The far more probable path to victory would be via a convention—let's not forget that Steve King won his initial primary via this route.  If the field expands to 5 or 6 and both the Republican establishment and the "Conservative outsider" vote are split between multiple candidates, the chances of anyone reaching the 35% threshold are significantly reduced.  Geography plays in here as well as this scenario becomes even more possible if the candidates hail from different population centers in separate parts of the state.  If the race is trending this direction I'd bet that the non-Libertarian candidates would meet and attempt to consolidate the field by trying to convince one another to drop out and throw their support to whoever is further ahead in the polls, but maybe not.  If this fails to happen and several candidates stay in splitting the vote, a convention is a real possibility—in which case the Libertarian candidate would have to think they have a shot.
The Consolation Prize 
Even if a Libertarian candidate fails to make an impact directly in the polls or in the vote count their presence in the race would accomplish two significant things—they could work to move the field slightly to the libertarian right as the year goes on and, more importantly, they would have a large platform to spread their message while drawing more people into the network and keeping them active.  The growth of their network not only means a larger impact in future Iowa legislative races— but they also know it will be needed for Rand Paul's inevitable 2016 presidential run.
Prediction Time
Of these three, winning outright is frankly pretty hard to fathom and a convention is unlikely but technically possible—there's no question however that this last reason creates an opportunity that would be foolish to turn down.  This open Senate primary provides Iowa Libertarians something that all political movements need—publicity and relevance.
Given that expectations wouldn't be extremely high and thus underperforming them is unlikely—strategically there is simply no downside to competing and there is plenty to be gained even in defeat.  For this reason I would be shocked if we don't see Ivers or another Liberty candidate in the fray before it's all said and done.
Though maybe not sending earth-shattering shockwaves through the race…this would certainly have an impact on the other candidate's strategy and math.  I suspect in this climate of intense government distrust, and with the Republican base significantly fractured—the Libertarian movement in Iowa will hear opportunity knocking.