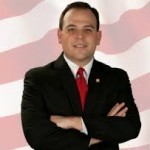 The potential field of candidates for Iowa's open U.S Senate seat has further narrowed as current Iowa Secretary of State Matt Schultz has bowed out.
Tuesday he took to twitter to make the announcement and also sent an exclusive statement to The Iowa Republican.com–who have made a habit lately of further diminishing the Des Moines Register by breaking stories.  The statement reads as follows:
Over the past few weeks I have been truly humbled by the encouragement I have received from Iowans to run for the U.S. Senate.

After many conversations with my family and friends about the U.S. Senate race, I keep coming back to the fact that I love serving Iowans as their Secretary of State.

In my first two years as Secretary of State we have worked to increase voter participation with our "Honor a Veteran" program and our partnership with Rock the Vote to encourage young people to vote through Rock Iowa. We have made it easier to start a business in Iowa by streamlining the filing process, and we used technology to make voting easier by creating apps that allow voters to find their polling place and track their absentee ballots right from their cell phones. We have also created an electronic poll book, "Express Voter", to make voting easier on Election Day.

While I am proud of our achievements, there is more to accomplish. I will continue working to improve the business climate in Iowa and fighting for integrity in our elections. This is why I am going to run for re-election as Iowa's Secretary of State.
Schultz would certainly have been a serious candidate and his decision to sit this out surprised many.  He flew out to Washington D.C a few weeks ago for meetings, and I highly doubt they told him anything overly negative.  The notion that Bruce Braley is an overwhelming favorite in the general is flat-out an illusion–he can be beat and I'm confident Schultz heard this in D.C.
As his statement suggests, a major factor was you get the sense he truly does–for now– love being Secretary of State.  Having said that, I can't help but think if the calendar had been kinder and he wouldn't of had to give up his current job to put his name on a ballot–he would have done so.
Republicans will see Schultz plenty in the future, and the last hidden factor to consider is this–we have another Senate seat in the state; right now it's held by someone as old as the Republic, and that election falls in a S.O.S off-year.  Additionally the next few years can be served raising his profile when he wants to, speaking at Republican events, and building a wide donor base.  I bet all this added up to "Schultz for Senate 2016" having a better sounding ring to it.