Filed Under: Featured Local

Print This Post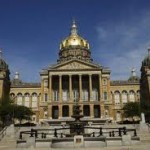 In Iowa Politics this week on the Iowa Legislative Hour, hosts Kevin Hall and Art Smith talk with State House Representatives Jake Highfill of Johnston and Gus Vander Linden of Oskaloosa. Â Topics included Education Reform, Gun Control, Candidates for US Senate, and much more.
If you enjoy watching this, think about watching (or just listening) LIVE on Thursday's from 4:30 PM to 5:30 PM at Web Cast One Live!  Your phone calls during the show are welcome if you have questions for our elected officials.
About the Authors
Mr. Smith is the Publisher of The Conservative Reader, and is a co-founder of Valley Evangelical Free Church in West Des Moines, Iowa. He is Owner of Ambrosia Web Technology and is a Technology Relationship Manager and VP for Wells Fargo. Art holds a degree in Computer Science from Drake University in Des Moines, Iowa. Art's views are purely his own and do not necessarily reflect the views of Wells Fargo.
Sorry, comments for this entry are closed at this time.