Filed Under: Business, Debt, Deficit, Featured, Featured Local, Federal Budget, federal spending

Print This Post
Proving his concern about our country's national debt wasn't mere campaign lip service, Congressman Tom Latham continued to warn against the perils of a $17 trillion debt in Urbandale on Friday.  He joined an event hosted by the Iowa chapter of Fix The Debt and toured the facility of Jon Troen's ColorFX company.
Speaking to a group of ColorFX employees Latham seemed hopeful a long-term solution could be agreed to this year saying, "I think there is a real chance of getting a bi-partisan deal passed.  It has to be done to ensure our nation's economic and fiscal security."  As the owner of a company trying to navigate through an increasingly shaky economy, ColorFX owner Jon Troen fully concurred by stating, "The national debt affects everyone and it has a direct impact on how small business owners like me run and manage their operations."
Mr. Latham's participation in these types of forums should be heartening to all Iowans, regardless of their political persuasion, who realize continued record deficit spending is fatal to our entire population.  I have reported here before that a close look at Rep. Latham's voting record the last several years reveals a rock-solid fiscal conservative unwilling to mortgage the future for temporary political gains.  With so many politicians these days willing to speak one way around election time and then consistently vote the other way when the spotlight fades, Iowa is lucky to have someone willing to both speak out and vote for their convictions.
Below are some pictures from the event: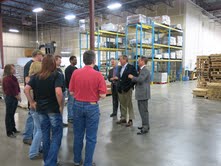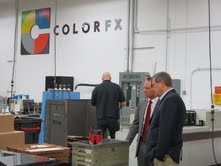 About the Author
Mr. Arnold is a long time constitutional conservative. He holds a Bachelor of Arts Degree in English Literature from the University of Iowa. Over the last few years he has been involved in numerous political campaigns, most recently serving as campaign manager for an Iowa House candidate and serving as a city chair for Tom Latham. He is self-employed, running a small business in Ankeny, Iowa where he resides with his wife.
Sorry, comments for this entry are closed at this time.