Filed Under: Featured Local, Iowa Legislative Hour

Print This Post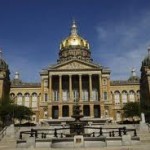 This week Kevin Hall and I had Senator Brad Zaun of Urbandale and Senator Tim Kapucian of Keystone. Â We talked about the recommendation from the Eduction Committee regarding Governor Branstad's choices for the Board fo Regents, a number of key Agriculture topics including CSR 2 and Water Quality, the upcoming debate of Medicaid Expansion and efforts to convince the IOC to reinstate wrestling. Â Great conversation and information on the Iowa Legislative Hour!
About the Authors
Mr. Smith is the Publisher of The Conservative Reader, and is a co-founder of Valley Evangelical Free Church in West Des Moines, Iowa. He is Owner of Ambrosia Web Technology and is a Technology Relationship Manager and VP for Wells Fargo. Art holds a degree in Computer Science from Drake University in Des Moines, Iowa. Art's views are purely his own and do not necessarily reflect the views of Wells Fargo.
Sorry, comments for this entry are closed at this time.