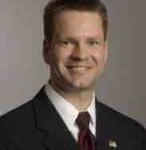 (Check Back Tonight For Results and Recap)
The election to replace Pat Ward in the Iowa Senate takes place today in the West Des Moines / Waukee centered Senate District 22.  Polls are open from 7 am to 9 pm, and the results will determine whether Democrats will have a 26-24 or a 27-23 majority for the next two years.
On paper Republicans like their chances for three reasons: 1) they have a very good candidate in Charles Schneider, 2) the most recent registration numbers in the district are (R-17,392) (D-12,929) (NP-15,996) (R+4,466), and 3) they have done very well in absentee ballot requests.  While facing these 3 obstacles, Desmund Adams has to like the fact he has been campaigning for well over a year while Schneider has had only a month.
WHO TV Sit Down
On Sunday morning both candidates sat down with Channel 13's Dave Price for a kind of dual interview/forum.  Both men did well, and Schneider played it safe by not going on the offensive once.  I am hoping this is due to him seeing an internal poll saying he's in good shape—because I personally would have been more aggressive.  They disagreed on all the standard issues: tax reform, gay marriage, the death penalty etc.
Of note here are 3 things from Adam's performance.  First, when addressing tax reform his position made no sense at all.  I think he had to have accidently misspoken, but he said he favored lowering corporate tax rates in Iowa and using that "savings" to apply to the lowering of residential rates.  He was not called on it by Price so I guess we will never know—but I'm not aware of how this approach is possible.  Second, when asked as a self-proclaimed "moderate" Democrat if he broke from his Party on any issue he said "sure I do".  When asked for an example he said he really couldn't give one because he has been so focused on door knocking—just ridiculous.  Lastly, in a sly political move, he spoke at least four times about the over 7,000 doors he has knocked on in the district.  The point of this was to emphasize that Schneider has only been in the race for a month, which is smart.  However anyone giving this a second of thought realizes this doesn't make him the right choice for the district.  If I was running in Johnson County and knocked on every door in the district 5 times does that make me the guy for the job?  Unless I had supernatural powers of persuasion of course the answer is no way.
Voter Resources
TCR preview of race between Adams and Pat Ward
Schneider Website – SchneiderForSenate.net
Adams Website – DesmundAdams.com
(Reminder: Check Back Tonight For Results and Recap)