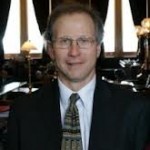 The Candidates
Merlin Bartz (R)Â  vs. Mary Jo Wilhelm (D)
Two sitting senators square off here.  Sen. Merlin Bartz is in his second stint in the Iowa Legislature.  He served one term in the Iowa House, moved up to the Iowa Senate, resigned after 8 years to join the Department of Agriculture, and finally got elected back to the senate in 2008.
Sen. Mary Jo Wilhelm formerly served on the Howard County Board of Supervisors, started her own residential appraisal business, and was first elected to the Senate in 2008.
The District
Our final race takes us to Northern Iowa's Senate District 26, where five whole counties (Worth, Chickasaw, Floyd, Mitchell, and Howard), as well as parts of Winneshiek and Cerro Gordo, make up the territory.  Not much of a built-in advantage for either candidate here as the November numbers for voter registrations are: (D-12,741) (R-12,094) (NP-17,808) (D+647).
The Race
This is without question one of the top 3 high profile legislative races in the state.  Beyond being an incumbent vs. incumbent match-up, there is a lot of committee assignments and seniority on the line for each Party.  Bartz serves on the Appropriations, Local Government, Rules and Administration, and Ways and Means committees.  Meanwhile Wilhelm serves on the Commerce, Economic Growth, Education, Human Resources, and Local Government committees.
With the following factors in play: two incumbents, a swing district, and political control of the state likely in the balance, you would expect big money to follow—and sure enough that's exactly what we have here.  Bartz raised $150,000 on his own, while the GOP chipped in $35,000.  This pales in comparison though to Sen. Wilhelm who raised $105,000 on her own but had the Democrat Senate Majority fund throw in a mind- boggling $224,000 on her behalf.
These totals make this legislative contest the one with the highest cumulative dollars spent in Iowa this year ($514,000), and the near quarter million dollar donation from the Democrat Party made Wilhelm the second biggest recipient of help from their Party of all the legislative candidates (trailing only the $237,000 Democrats gave Nate Willems in SD 48).
Disregarding for a moment the balance of power and looking at only these two candidates, I think both sides may even agree that Bartz would be a bigger loss to Republicans than Wilhelm would be to the Democrats.  I do not know how specifically Wilhelm is involved on her side with policy and the moving parts of legislation, but I do know that Bartz has a world of both local and federal experience that Republicans often rely on.  Put simply, besides replacing him on the four committees he serves on, it's doubtful Republicans will be able to fully replace his intellectual assets anytime soon—that is without taking it from another area.
Two quick thoughts–one for each side
If Bartz and the Republicans lose this seat by a few hundred votes or less, which is very possible, they may look back and blame a public dispute that Bartz entered into with his neighbors in Grafton over $1,100 dollars worth of fencing.  Click the link to read about this head-scratcher, but it's safe to say this did not earn him any votes and it certainly cost him some.  Especially for a guy out raising $150,000 to keep his seat, it sure seems like paying the $1,100 on his own would have been worth it.
It's safe to say that if Wilhelm and the Democrats are unable to pull out this race…somebody in strategic leadership will be in hot water.  The reason for this is that the spending strategy employed by Democrats has been to create a firewall by dumping huge money into a few races that they saw as unthinkable to lose, meanwhile the GOP has spread it's money much more evenly.  Consider this, in just three senate races (48, 36, and 26) the Democrat Party chose to invest $595,000.  If on Tuesday they don't win these races or they find themselves on the losing end of some other close races that they short-armed resources to, this strategy will shoulder a large portion of the blame.
Further Information
Merlin Bartz -Â  MerlinBartz.com
Mary Jo Wilhelm -Â  WilhelmForSenate.com