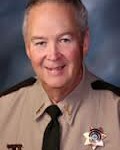 With Part 1 of this story covering the entire forum minus the last five minutes, lets dig right into the controversy that marked the conclusion of Monday's forum and went on to engulf the local media in the following days.
What Was Said
For those who have not heard or read it yet, here is the transcript of the most controversial remarks from Sheriff McCarthy's closing statement:
"…Then the other day I opened his website and he's got a reference on there to the Oath Keepers.  The Oath Keepers!  It's a group that affiliated with this (holds up book), but they are the big boys.   These are people on a Patriots list from the National Poverty Law Center, a watch list for extreme radicalism.  (Timothy) McVeigh died going to his grave saying that he was that kind of patriot.  This guy that runs the Oath Keepers movement, who says he's a Constitutionalist, has now come out on his website and said it's time to arm because we think Obama might win.  It's time to arm, and it's also time to store food for the war that's coming (crowd starts booing).  This is the kind of garbage you're going to get if he (points to Charleston) is elected.  It's really about as radical as it gets."
Contributing Factors
Though utterly indefensible and unjustified, there are two factors that should at least be understood when thinking about McCarthy's attitude and conduct on this night.
I believe it fair to realize that for the last year or so Sheriff McCarthy has been listening to and watching Dan Charleston run for his job by basically saying that his department is a poorly run outfit plagued by low morale that needs whole-sale changes to better serve and protect the people of Polk County.  I am not for a moment saying that these things are untrue, but I am saying that very few of us, if any, have experienced this situation—and clearly it would be extremely tough and frustrating.  To continually hear on the radio strong criticism that you are failing in a job you are personally invested in and passionate about is no small thing, and certainly would wear on anybody.  Secondly, and unknown to me until after the fact, apparently Sheriff McCarthy's own brother was killed in the Oklahoma City Bombing carried out by Timothy McVeigh.
The Bottom Line
The above information is presented solely to give some context to an allegation and line of logic that is nothing short of disgraceful and bizarre—there is just no getting around that.  While the whole closing statement was overboard, the last sentence elevated the charge to a different level.
It's one thing to raise questions about a quote on Dan Charleston's website from some group who you view to be extremist in order to cast doubt about where your opponent is coming from—some may even define this as "hard ball" politics (I would use the word "dirty").  It is yet another step-up to imply that all this groups' beliefs and actions can be attributed to Charleston.  Rather unfortunately Sheriff McCarthy didn't even stop here.
Though it was hard to hear in the auditorium at the time due to the crowds audible gasp and objections, the last sentence that McCarthy uttered that night was, "And this is the kind of garbage you are going to get if he is elected, it's really about as radical as you can get."  Beyond being baseless, irrational, and reckless—this is legal slander that demands, in the least, a public apology.
Impact On This Race
In my view this stands as the second most bizarre episode in Iowa politics this year—bested only by Republican Senate candidate Randi Shannon's break from reality—and will certainly hurt his chances in the November election.  Besides being a huge public relations misstep, McCarthy's conduct and slander was a head-scratcher politically, as it runs counter to the broader-themed case he has been making against Charleston from the beginning.
Besides saying that Charleston is wrong on the issues, McCarthy's general assertion to voters is that he is more professional and well-mannered while Charleston's temperament and straight-talking boldness are the wrong traits to have heading the Sheriff's Department.  It is beyond ironic that the man making this case, even saying himself during the forum that you can't "bare your soul on every social issue", would himself make a reckless and bizarre allegation by publically "baring" his own outlandish and paranoid beliefs about Dan Charleston.  It is truly as unbelievable and nonsensical as it is hypocritical.
The fact that these two candidates have opposite beliefs on nearly every issue already presented a clear choice for the citizens of Polk County.   Sheriff McCarthy's outlandish display in the waning moments of Monday's forum have made this picture's contrast even sharper…and made the prospect of him keeping his job far less likely.