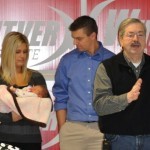 With the primary and caucus season officially over, the time for Iowa Republicans to come together has now arrived.  For Republicans in Ankeny and the surrounding areas, literally getting together will be on the menu Saturday May 26th at the Ankeny Band Shell in Wagner Park—along with some world-class barbeque.
The event is the first annual "Senator Whitver Memorial Day Weekend Picnic," and it will feature some great guests.  Among those speaking will be Governor Terry Branstad, Congressman Tom Latham, and Secretary of State Matt Schultz.
For Senator Whitver the idea of having a picnic was the perfect way to bridge two good causes, "There is such a feeling of community in Ankeny and I wanted to start an event that can be an annual tradition.  Being a young father myself, it is important to me that this is a family friendly event.  This will be a great chance for kids to meet and speak with their elected officials, including the Governor, and a great opportunity to teach them the importance of being involved."  The other good cause is that all funds raised will go to support Senate Republicans this November.  To this point Senator Whitver added, "This is also an event that will help Republican candidates all over the state and help us take the majority in the Iowa Senate next fall."
Besides hearing from the featured guests, Ankeny residents will have the chance to meet the candidates running to represent them in the Iowa House, as well as Polk County Sheriff candidate Dan Charleston.   There will be plenty of food and entertainment throughout, as all attendees will be treated to live music and the cooking of renowned Iowa barbeque chef Lee Booton.
Against the family picnic backdrop, political enthusiasts will have plenty to keep an eye on as well.  This will be one of Governor Branstad's first public appearances following the adjourning of the Iowa Legislature, and many will likely be hearing from Congressman Latham for the first time since launching his campaign in a very high profile showdown with Representative Leonard Boswell.  Returning to Ankeny after speaking at the Polk County Convention in March, Mr. Latham sounds ready to meet and speak with voters in a far more casual setting.  When asked for his thoughts on this upcoming Republican get together he responded, "I am looking forward to this great event and an afternoon of seeing old friends and making new ones."
In the big picture, the influence that Iowa has in the primary process will be fully re-lived this November.  As an unquestioned swing state in the presidential election and home to two of the most important Congressional races in the Country, what happens here will undoubtedly re-shape American politics for the next several years.
All those interested in shaping what will become an Ankeny tradition for several years to come should take a look at the flyer below and make plans to attend on Saturday, May 26th.  If you are sure to attend, please RSVP to [email protected].  Tickets will also be available for purchase the day of the event.