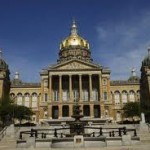 The gaveling in of the Iowa Legislature's 84th General Assembly last week signaled an end to the 2012 Presidential Caucus season and the return of a more local political focus for Iowans.
There is no doubt that much of the session's oxygen will be sucked up by the major issues that failed to produce any legislation following last year's battles. These issues include reforming the tax code, mental health services, and education, as well as another round of sparring over Iowa setting up a health insurance exchange to work in conjunction with Obama Care.
While these will grab a majority of the headlines, and a good share of our attention here at The Conservative Reader: Iowa, there have already been a number of very interesting bills introduced that we will also be following.
As of now the bills and issues outside "the big 4" that we have flagged to watch closely are as follows: Term limits, random drug testing for recipients 84th of certain state benefits, banning red light and speed cameras, and the fate of nuclear power in Iowa.
After being deluged for so many months with candidates and their ever changing poll numbers, it is easy to forget that in many ways the caucus season is an imperfect method for measuring Iowa's current ideological perspective. Removing the factors attached to individual candidates such as "likeability" and "electability", and instead gauging the debate and the public reaction of Iowans to more hyper-local issues is a far more telling indicator of where we stand. Ironically these debates and their results likely will tip our hand as to which Presidential candidate will be awarded our 6 electoral votes in November.
In the following weeks stay tuned for investigations, updates, analysis, and opinions on the major issues being debated at the State House. As mentioned earlier, while we will not ignore the most publicized topics of debate this session, a number of bills that will exist in the shadows of the major priorities are just as important.
Though we will be closely watching with an appropriate level of skepticism, we wish all those involved with the 84th General Assembly well in their efforts to make improvements for all Iowans. When we feel they have achieved improvement—we will trumpet it. When we feel they have caused damage to our way of life—they will be called to account.
On with Democracy…