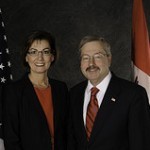 I would have liked to have gotten this posted Friday, but family issues interjected themselves.
As you know, both Governor Terry Branstad and Lieutenant Governor Kim Reynolds were sworn in to their respective offices Friday.  The Inauguration ceremony, which is conducted as a joint session of the Iowa House and Iowa Senate, was held at Hy-Vee Hall in Des Moines.  There was appropriate pomp and respect in the procession and swearing in of both Reynolds and Branstad, and about 2,000 people were present to witness the event.
The music at the event was awesome, and the selection of songs by the Heartland Youth Choir was wonderful. Â I deeply appreciate the pride and respect given to our flags and the servicemen and women conducting during the presentation of the colors.
One can find some thoughtful and insightful thoughts from Shane Vanderhart (and later reflections as well), Kathy Obradovich, and Bleeding Heartland (yes, a liberal perspective shouldn't hurt now and then).
Both gave speeches that provided an introduction into a kind of new beginning for state government in Iowa, and the foundation of their thoughts on how state government should serve Iowans.
Lieutenant Governor Reynolds offered some thoughts on the values being brought to Iowa government, and emphasized government's need to listen to its people and focus on key areas like education while encouraging Iowans to proactively reach out to those around them in need. Â She use the story of the Pender family in Windsor Heights to help emphasize this.
Governor Branstad more or less kept to his promise of a relatively short speech, but was long on promise. Â The core message was that there would be a "new covenant" between government and Iowans. Â His presentation focused on 5 main principles:
We have too much government and it must be reduced
Government must serve the people
It is time to restore integrity and transparency to our government decision-making processes
A renewed commitment to provide the best education in the world
We must celebrate success
The Governor's speech was filled with a substantial amount of passion and emphasis on the areas that need work, and I was intrigued by the number of times the audience rose to their feet in response to his words. Â The message itself, a message of the kind of government many have been calling for, a message of Iowans reaching out and helping other Iowans directly instead of waiting for government to act as a proxy, a message of renewing our commitment to education and commerce… this message is a good start for the new administration.
It's interesting to note that in other countries, a change in leadership is ofter referred to as a "new government". Â We don't tend to use that expression in the US so much, but it seems an appropriate expression at this time.
It's worth a read.
That said, I was reminded in a conversation with my dad tonight about the cyclic nature of history and politics. Â I'm personally encouraged by what the Governor shared on Friday, and between his administration, Iowa's new Republican House and growing Republican presence in the Senate. Â My hopes are high that we will be able to get our fiscal house in order and move to more careful spending.
However, we have been here before and our tendency has been to start off on the right foot (no pun intended) and end up spending ourselves into a stupor. Â It will be difficult, but as citizens we need to be vigilant regarding the work of government and expect, nay, demand scrupulous management of our state's resources from the beginning to the end of each term of office of our representatives and Governor. Â It is a mistake to push the cart in the right direction and hope it reaches its destination unaltered.
The citizens needs to keep the cart straight.
~ ~ ~ ~ ~
A lot of people worked hard to prepare for this event and the ball later that day. Â One person I want to mention whom I noticed in the procession was Mike Cook, who was a member of the Inaugural Committee. Â There were clearly a number of great people on the committee, but Mike is someone I have worked with throughout my tenure with Polk County Republicans, and have admired him during that time.
Mike Cook has achieved greatness in my eyes because of his commitment to working as hard as he can to support the goals of our party despite physical challenges that would keep many away from any volunteer activities. Â He is reliable, consistent, focused on the goal, and totally supportive of the party's work. Â Rarely do we have a need for volunteers where Mike does not show up. Whether it's parades, phone calls, office work, manning a booth at an event, helping with setup, speaking before a group, Mike is always ready to step up and do what it takes to make a difference.
We have a lot of hard working volunteers, but Mike Cook shines brightly among them.