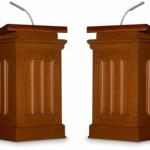 After sitting through what was probably the most painful debate I've ever watched two weeks ago, I think it's time to demand the Branstad campaign implement the Mercy Rule.  Mostly to show mercy to those of us who feel obligated to watch these debates… and a little mercy for Governor Culver.
It seems unfair to continue to let Governor Culver get up in front of TV cameras and make a fool of himself.  Why put a sitting governor through the embarrassment of having to respond to questions about state government, policy, and the future of Iowa when the only answers he has are scary predictions of what he thinks Terry Branstad will do as governor?  Even when he has what many would say is a great story to tell about early childhood development programs, he flounders and spews out that Branstad will take preschool access away from children.
But overall, Chet does not have much of a story to tell, and he is desperate.  He will continue to criticize his opponent until election day.  It seems to be the only weapon his campaign team has in their arsenal to try to snatch victory from the jaws of utter failure.
I was surprised, however, by Culver's announcement this week of a middle-class tax cut.  It's amazing how such a blatantly political attempt to bribe the middle-class in Iowa to vote for Culver, after a contentious two years trying to resolve our budgetary crisis, is treated as a legitimate proposal.  Where will the money to pay for this tax cut come from?  Don't get me wrong, I support cutting taxes when it makes sense, but we must cut spending first to support it.
I suspect that most Iowans who have been watching the debates are frustrated with the fact that the overall content of the debates has not changed much (and I don't expect any improvement tomorrow), that the animus has gotten worse on both sides, and that the sitting governor is looking more and more like an angry leader fending off attacks with little more than a pea-shooter.  It's like being at the gruesome scene of a fatal auto accident… you just want to look away from it all.
I expect tomorrow's debate to have one area of meaningful (but not necessarily valuable) discussion, and that will be the new tax cut proposal.  Other than that, we will just have more snipes about DeCoster, about IJOBS, about Marriage, about the Budget, about Mismanagement, and all of it will be what we've already heard before.
At least it will be the last Gubernatorial Debate of this election.  I don't know if I could stomach much more.
~ ~ ~ ~ ~
Regardless of how I feel about the debate, I will not only be watching it live (starting at NOON), but I will be live-blogging along with several other of the Guest Political Bloggers here at the Des Moines Register's web site as we have for both of the previous debates.  I think it's a great chance to hear some of our comments live and to respond yourself during the debate.  I hope you'll join us!