Filed Under: Featured, Radio

Print This Post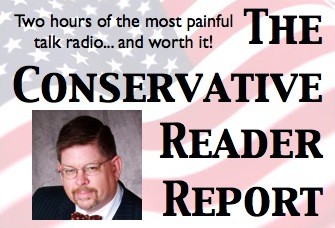 This week on The Conservative Reader Report, we will have Shane Vander Hart from Serve Our Youth as our guest during the first hour to talk about mentoring opportunities and an update on how the new programs at Server Our Youth are progressing.
During the second hour, Craig Robinson of the The Iowa Republican and Kim Lehman, one Iowa's representatives to the Republican National Committee and President of Iowa Right To Life.  Our topic will be the purpose and future of political parties in America.
We'll have updates on the Iowa Legislature's first week of session, along with the Dumb and Smart politicians of the week.
Only on The Conservative Reader Report!
About the Author
Mr. Smith is the Publisher of The Conservative Reader. He is Partner/Owner of Ambrosia Web Technology as well as a Systems Architect for Wells Fargo. Art hold a degree in Computer Science from Drake University in Des Moines, Iowa, and is a political blogger at the Des Moines Register. Art's views are purely his own and do not necessarily reflect the views of Wells Fargo.
Sorry, comments for this entry are closed at this time.