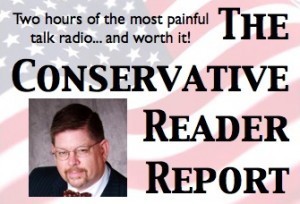 Join us this Tuesday (January 5) from 3:00 to 5:00 Central for The Conservative Reader Report on Des Moines' only completely local and live internet talk radio station: Des Moines Local Live! This week's guests are:
John Bloom, Chair of the Polk County Republican Party. Â John will bring us the latest updates on the 2010 caucus preparations, an overview of the relevant major political events of 2010, an update on activities in the Republican Party in Polk County, and will answer your questions.
Chris Hagenow, Iowa House member from District 59 (West Des Moines, Windsor Heights and Clive).  He will talk about the 2010 legislative session, issues that are important to you today in Iowa, and thoughts about the 2010 elections… and he'll answer your questions as well.
We'll have updates on the political news that's important to you, along with the Smart and Dumb politicians of the week.
Only on The Conservative Reader Report.