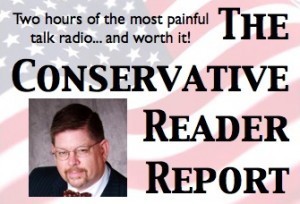 Join us this Tuesday (December 29) from 3:00 to 4:00 Central for The Conservative Reader Report on Des Moines' only completely local and live internet talk radio station: Des Moines Local Live! This week's guests are:
Tim Albrecht, Communications Director for the Terry Branstad for Governor (of Iowa) campaign. Tim is a well known political activist and former host of his own show at Des Moines Local Live. He will bring us an update on the campaign, thoughts about the activities of the next few months, comments on issues impacting state government here in Iowa, and answer your questions about the governor's race.
Pat Bertroche, Republican candidate for US House from Iowa's 3rd district. Pat is one of 4 people currently vying for the opportunity to oppose Leonard Boswell in the November 2010 election. He will talk about his positions on the issues and answer your questions.
We will also have updates on the most important political news, and the Smart and Dumb politicians of the week, only on The Conservative Reader Report!