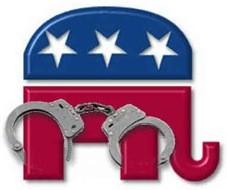 Retired editor of the Des Moines Register, Richard Doak, is concerned about the welfare of the GOP.  He says to restore the GOPs greatness don't look to Reagan, instead look further in the past to Abraham Lincoln and Teddy Roosevelt.
Thanks for the history lesson Mr. Doak, upon reading your column I began to wonder if you think that today's GOP wouldn't care about slavery?  While you don't come right out and say it, that does seem to be implied.
Also implied is the same tired mantra that the GOP doesn't care about "the common folk."  What I fail to understand is how increasing taxes on businesses that employ "the common folk," diminishing the quality of health care which "the common folk" benefit from, and seeing products and energy bills of "the common folk" increase somehow benefits "the common folk"?
You write at the end, and I swear the Democratic Party is feeding you its talking points, this:
It has no sense of caring for the common folk. It knows no problem that can't be solved with another tax break for the rich. It knows no infrastructure projects that are better than tax cuts. It believes any curb on the rapaciousness of corporations is un-American.

It believes preserving the principle of private-sector health insurance is more important than letting people choose a cheaper, government-run option. It is hostile to public education, the one American invention that has done more for the common people than any other.

The philosophy of this modern Republican Party prevailed in America for the last quarter century – and it produced epic disaster.

Now the party is in the wilderness, and its partisans cry out that the only way out is to stick with the philosophy that produced the disaster.

Wouldn't it be better to acknowledge failure and think again, start over again?
I know you'd rather see the party look to dependence on government programs rather than personal responsibility and voluntary charity.  You'd love to see a health care system like what Canada and the United Kingdom experience.  I know you believe that public education is the salvation of mankind, but when will you recognize that it is hopelessly broken and needs competition?
With the wild spending going on at our statehouse and in Washington we won't have to worry about "tax cuts for the rich," as we'll soon experience tax increases for everybody in order to pay for this spending spree government has going on.  We'll see how well increasing taxes on business will help increase employment as well.  But, I know, privately created jobs won't help "the common folk" nearly as much as a taxpayer-funded government program.
To you I'm sure that this would seem like it would restore the health of a two-party system, but it would destroy it.  We would have instead Democrats and Democrat-Lite.  What we need right now is fiscal discipline, smaller government, lower taxes… the people seem to get it right now even if you don't.
Originally posted at Caffeinated Thoughts