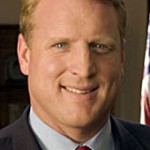 At a cost, it seems. Democratic leaders got together yesterday after several days of stalemating between the Governor and Legislative Leaders (all Dems). As you may know, Culver wants to borrow $750 million for infrastructure projects, and both House and Senate leaders have been resistant to this approach (probably recognizing that most Iowans do not want to see the State borrowing this kind of money).  So, while the good news is that legislators will probably get their work done in the next few days, the public may lose if this bond measure is passed (dubbed "I-JOBS").
Only $150 million of the money would go to roads and bridges, and the rest to repairs from the disasters of 2008, renewable energy and other miscellaneous items.
I'm guessing this will include the $3 million needed from the State to get the $30 million in stimulus money from the Fed for the high-speed rail between Des Moines and Davenport which was talked up yesterday as part of Obama's visit to Newton.
I don't know a lot about the infrastructure needs in northwest Iowa, but evidently improvements are needed.  Mentioned in this story, Culver wants to see highway 20 (an east-west state highway running between Sioux City and Dubuque, running through Fort Dodge, Cedar Falls, and Waterloo) upgraded to four-lanes across the entire state.
Problem 1: Culver wants to use gambling revenues to cover the payments.   The gaming industry is not the most reliable, and the tax credits we recently implemented certainly demonstrate that and reduce the revenue from this source.  As Iowans (and others from out of state) become less and less interested in sustaining this industry, we will likely struggle with having revenues from these sources.  Which means we could end up spending general fund money on this.
Problem 2: This money is not even being allocated for actual projects.  A committee will be deciding how to spend the money (I wonder how much they'll need for new carpets).  So we don't know where the money will be spent until after we've borrowed it.  This will help perpetuate an already painful cycle of overspending and then cries for more money later.
Problem 3: Much of the road work to be done by this bonding will need to be replaced before we pay off the bonds.
Problem 4: Culver's urgency in getting this passed "quickly" leads me to believe that he knows his position is tenuous, and that perhaps we need to look more closely at who will benefit from this.  I know it won't be me.
Problem 5: Borrowing should be confined to emergencies, and should be emergencies AFTER we've exhausted the emergency (rainy day) funds already in place.
Peter Orazem, an Economic professor at Iowa State University, recently stated that the bond plan is unnecessary.  There is already over $1 billion of money going into flood relief and infrastructure improvements (from the rainy day funds and Federal moneys) that will provide enough jobs for those out of work in the construction industry.  Indeed, Iowa's unemployment rate for construction workers (2.6%) is significantly below the national rate (over 10%).  Clearly, we risk creating projects that while funded, cannot be completed timely due to the lack of skilled workers.  And, as Professor Orazem explains, that will increase the costs for all projects (workers will be able to demand more money).
What troubles me is that there are other moneys specifically set aside for these types of projects.  The Rebuild Iowa Infrastructure Fund (RIIF) appropriations for 2008 and 2009 (estimated) were more than double for 2006 and 2007.  Evidently, revenues driving into RIIF are likely down due to tax credits provided to the gambling industry beginning this year, and interest on rainy-day funds is down due to rate drops and the use of some of that money.
If we don't have the money and really need to have all this work done, perhaps it's time to prioritize better.  We continue to have money come in from the Fuel Tax which is supposed to be used for roads and bridges, and we have money coming from the Fed to cover some $350 million in infrastructure costs.
I'm opposed to the bonding.  I can't see this being the right solution.   Culver presses the fact that it will bring jobs to Iowa, but once the money is spent, then what?  Then the jobs go away.  It seems to me that infrastructure management should be designed as a structured and sustainable function of  the government that grows at a rate tied to inflation and population growth.  We shouldn't even have to come up with new solutions for infrastructure each year, and we definitely shouldn't have to have special bonds to support maintenance and real growth related improvements.  Revenues specific to this operation should be tied directly to growth and use.  What makes increasing the Fuel Tax an appropriate option, in my opinion, is that this source of funding does not account for inflation automatically as it is structured today.
Let's get the work done this year that is really needed; we've got the money for that.  Let's get the areas impacted by last year's disasters back on their feet and worry about making things even better next year.
Oh yeah, right, next year's an election year.  Gotta choose doing what's right versus getting elected.  Chet, I wouldn't worry about that if I were you.  2010 will be one year when the prior 24 months won't be so easily forgotten.
~ ~ ~ ~ ~
I wonder if anyone has looked at the revenue impact of the smoking ban.  I'm just saying.