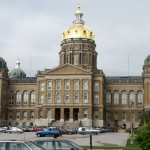 The deductibility of Federal Income Tax on the Iowa Income Tax is in jeopardy.  Iowa Democrats have officially brought the issue to the table in the Iowa House in HSB 284 (currently in the Ways and Means Committee).  Iowans need to stand up against this bill, as it is a direct increase in the income tax obligation of Iowans.  After rejecting sound recommendations from Iowans and elected Republicans, the Democrats are anxious to fix the mess they have created by raising our taxes.
There will be a Public Hearing on Tuesday, March 31, 6:30 PM (meeting commences at 7:30) at the Iowa Statehouse in the House Chambers.  This is the public's best opportunity to be heard.  If you can, please plan to attend.  If you don't want to see your taxes raised, now is the time to act.  Attend the hearing.  Contact your contact your State House Representative and Senator.  Doing nothing will allow this to proceed.
Matt Strawn, Chairman of the Republican Party of Iowa, had comments on this in the past few days:
Democrats release Plan to Eliminate Federal Deductibility to Force YOU to Pay a Tax on a Tax: Elimination of Federal Deductibility looks like it is on the Democrats' "Must Do" List before Session Ends. This could be Death Blow to our Economy!

It is becoming increasingly clear that legislative Democrats plan to raise income taxes on thousands of Iowans before they leave town and they will do so by eliminating your right to deduct federal income tax payments on your Iowa income tax return.

Brace yourself, but elimination of federal deductibility would mean a huge tax increase on the very Iowans who start businesses and create jobs—the people on whom our state's future economic recovery rests. This tax increase would spell utter disaster for Iowa taxpayers and cripple the Iowa economy.

For years some people have talked about getting rid of federal deductibility and lowering income tax rates to make the whole works revenue neutral for ALL taxpayers. But this is NOT what the Democrat tax and spenders at the State Capitol are planning. No. Instead, legislative Democrats are going to play class warfare and punish those Iowans who have the audacity to succeed.

A few weeks back Senate Democrat leaders first suggested elimination of federal deductibility was on the table for serious consideration. This week that sentiment was echoed by House Speaker Pat Murphy (see the story "In the News" below). And, yesterday, Democrats released details of their plan to eliminate federal deductibility and raise income taxes on nearly 90,000 Iowa households.

Iowa Democrats should be ashamed. In the face of the challenges presented by this economic upheaval, how have they responded? Well, they've cleaned out the check book (the general fund is out of money). They've emptied the savings account (the reserve funds are being run dry). They are planning to max out the charge cards (see the Governor's plan to borrow three quarters of a billion dollars). Now, they want to mug thousands of Iowa taxpayers to feed their spending habits.

Folks, this looks very real to me and we had better be prepared to act. Please watch in the next week as the Republican Party of Iowa prepares to do battle on this critical issue. We will bring to you multiple opportunities to engage on this issue and I trust Iowa Republicans will respond to our call to arms to prevent this destructive tax increase.
People, we cannot let the Democrats tear our financial house to shreds!  Show up!