Filed Under: Featured, Iowa Right To Life

Print This Post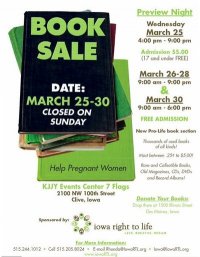 Iowa Right To Life is holding their annual book sale… Going on right now.  This is a great cause to support, and they have lots of great books.  Here's the details:
There are great deals to be had on thousands of used books at the Iowa Right to Life Book Sale, which begins Wednesday, March 25 at the KJJY Event Center at 7-Flags in Clive.

Most books are priced between $0.25 to $5.00. There are also rare and collectible books, magazines and record albums, as well as CDs and DVDs.

New Pro-life Material: By request, we have purchased the latest and greatest DVDs and books to help you build your library, provide resources for youth groups and for your own personal research. We are selling the material at cost.

Hours:
Wednesday, March 25 (Premier Night): 4:00 PM-9:00 PM
Admission on Premier Night only: $5.00 (children 17 and under are FREE)

All Other Sale Days Free Admission
Thursday, March 26: 9:00 AM-9:00 PM
Friday, March 27: 9:00 AM-9:00 PM
Saturday, March 28: 9:00 AM-9:00 PM
Sunday, March 29: (Closed)
Monday, March 30: 9:00 AM-6:00 PM

Download the Book Sale Flyer to Post and Give to Friends: http://irlc.org/events/book-sale/

Donate Your Books for Our Fall Sale:
Drop them at 1500 Illinois Street, Des Moines, Iowa.

For More Information:
515.244.1012 or [email protected]
Or 515.205.8024
E-mail [email protected]
About the Author
Mr. Smith is the Publisher of The Conservative Reader. He is Partner/Owner of Ambrosia Web Technology as well as a Systems Architect for Wells Fargo. Art hold a degree in Computer Science from Drake University in Des Moines, Iowa, and is a political blogger at the Des Moines Register. Art's views are purely his own and do not necessarily reflect the views of Wells Fargo.
Sorry, comments for this entry are closed at this time.